Is Rakuten legit or not?
Is that the question that's clicking in your mind while you just heard about it from someone or somewhere?
Well, you have just landed on right place because i am going to give you an unbiased and indepth review of Rakuten.
What is Rakuten?
Rakuten (formerly Ebates) is a cashback company that provides you cashback if you shop online from any of it's associated stores. It has connection with thousands of retailers all over the world with major ones including Target and Walmart.
It was founded in 1997 and to date they claim to have given away 1 billion dollars in cashback to their 12 million twelve million members in the USA.
Ebates, a famous cashback company was bought by Rakuten in september, 2014 but they stayed with the name "Ebates" untill last year when they finally rebranded to Rakuten.
Is Rakuten legit?
Yes! Rakuten is a legit and secure cashback company which has been in the market for a long time and has affiliation with over 2500 stores including Amazon, Target and Walmart etc.
According to Trustpilot (a leading trust analyzer website), the company has got 7 out of 10 in terms of customer trust and satisfaction which is great.

However, Since every person can have different experiences depending upon the purchases he makes, there are a lot of positive, moderate and negative reviews about the company on Trustpilot. Some of them are shown below,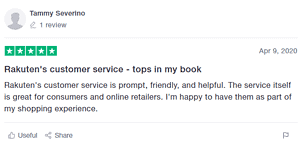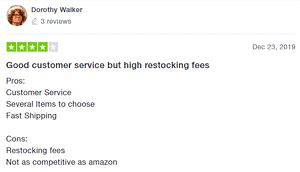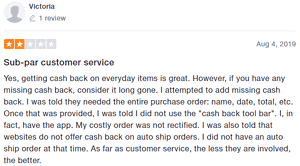 You can see from the above screenshots that although there are some negative reviews, there are a lot of positive reviews as well which pretty much sums up the overall legitimacy of the company.
How does Rakuten work?
Some of you might be wondering how does Rakuten make money and do the business when all they do is provide cashback on sales?
Well, the thing is that they make money through affiliate marketing. Affiliate marketing is a business model in which you make money when you sell the products or services of some other company and earn a certain percentage of commission on each sale.
What Rakuten does is that they have affiliation with over 500 stores across the world and whenever someone buys a product from any of these stores throught their associated link, they earn a certain percentage of commission of that sale from which they give a small portion to the shopper as a cashback.
This is a win win situation for both Rakuten and the shopper with Rakuten having a bigger edge.
Also read: Swagbucks Review 2020
How to sign up for Rakuten and get cashback?
It's completely free to join Rakuten and you can join it now within few seconds.
The signup process is simple.
First click on this link to go their homepage page, sign up and then you have the following screen in front of you,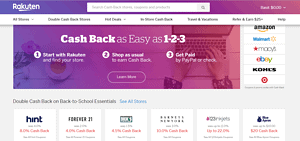 Now you can search for any brand you want to shop from search bar at the top.
What stores are on Rakuten?
As we mentioned above that Rakuten has association with over 500 stores across the world. It itself does not sell anything, rather it acts as a third party between you and the retailer from where you want to buy your stuff.
So instead of opening retailer's website directly, you open it via Rakuten affiliate link. This way Rakuten knows who has clicked their link and went on to buy a certain product so that they can provide the cashback to that shopper.
Now if you ask about the number of stores associated with Rakuten, they are a lot of them and they are kept on updating on daily basis, however down below we have compiled some of the most notable and frequent brands that partner with it,
1. macy's
2. Amazon
3. Kohl's
4. Backcountry
5. Target
6. Walmart
7. eBay
8. Dick's
9. Bestbuy
10. Nordstrom
If you want to see the list of all the stores, you can check it out here.
Also read: Inbox Dollars review 2020
How to make money on Rakuten?
Apart from getting cashback, you can also make money on Rakuten through it's referal program.
According to their referal program, you can make money whenever you refer someone else to Rakuten through your referal link, but the person you refer must make a purchase of atleast $25 in the first 90 days after his/her account creation.
This is a pretty awesome way to get some extra cash if you have a good social media following or you run a blog like me. But even if you don't have a huge social media following or a blog, you can still make some money by telling your friends and family to join Rakuten through your referal link.
Rakuten hacks and tips
Following are some hacks and tips you can use to save your time and maximize your earnings.
1. Utilize cashback button:- Manually checking all the products whether they support cashback or not, takes a lot of time, so always use the cashback button. Cashback button allows you to see all the items that are associated with the cashback and and the cashback percentage also saving you a lot of time.
2. Buy all your stuff in the same shopping session:- Not many people know this thing that when you access a shopping website through Rakuten, it is counted as one session untill you leave the site and move onto another site. If after accessing the shopping site you move onto another website and then return back to buy something, you may not get cashback because your session would be over.
3. Don't disable cookies on your pc:- cookies play a great role in tracking a purchase, and also authenticates a customer for cashback. if you disable cookies, you would not be able to earn any cashback on your purchases.
4. Check out for offers:- Sometimes Rakuten rolls out offers and coupons for various shopping websites which you need to check whenever you are on the site. It is a great opportunity to save some extra cash apart from cashback.
5. Use Paypal as a payment option:- Although their is a cheque option for payment withdrawal, i would prefer you to use Paypal as it is faster and more convinient option.
6. Install Rakuten browser extension:- Sometimes people forget to access a shopping website through Rakuten, and miss the chance to get a cashback, however their browser extension has solved this problem. Now you can download the extension and when you access any shopping website that is associated with Rakuten, a popup will appear with an option to "activate cashback". So you bascially you don't have to go to Rakuten first now, all you have to do is activate cashback through extension and BOOM!
7. Stop using adblocker for Rakuten:- If you are using adblocker on your browser, better uninstall it or add an exception for Rakuten.com because it is often bothered about it.
Also read: Is Survey Junkie safe? Unbiased review 2020
Advantages of Rakuten:-
1. Free to join:- It is absolutely free to join, there is no membership fee or any thing like that.
2. $30 signup bonus:- Yes! There is a $30 signup bonus for you if you join Rakuten. You get this bonus when you make a purchase of atleast $35 in your first 90 days of account creation.
3. Get paid on time:- Members get paid on time after every three months.
4. No limit on cashback:- There is no limit on cashback, no matter how much you shop, you would get the cashback.
5. Very low payout threshold:- The minimum amount you can withdraw is $5 which is ridicolously low.
Disadvantages of Rakuten:-
1. Not available worldwide:- Rakuten is not available in European countries unlike many other cashback sites and is currently available in only USA, Canada, Australia and many other Asian countries.
2. Taxes and shipping costs are not viable for a cashback.
3. Cashback is not available for every category on a specific shopping website. For example if you go to Amazon through Rakuten, you may find cashback for shoes category but not for digital accessories category. In short not all the products are available for cashback.
4. Cashback percentages are very low i.e 2-3% for every product which is very less if you are shopping products that are not expensive and it may take ages for you to accumulate a good amount of money as cashback through Rakuten.
Rakuten complaints:-
There is no product or service in this world that does not have any negative reviews, even if the service/product is the best of it's kind, there would be people complaining about it in one way or the other and those complaints are valid because sometimes there are problems with the system and sometimes the customers are doing something wrong.
Same goes for Rakuten,
Although it is a great website for cashback, it has a lot complaints from a lot of people that we read on various review forums,
1. Cashback is often cancelled:- This is a big problem! Sometimes people complain that they bought the product which had cashback associated with it, but their cashback got cancelled.
Now let me tell you why this happens,
As i mentioned above, Rakuten gives you the cashback from the affiliate commission which is provided to them by the shopping website. Now what happens is that sometimes these shopping websites cancel the affiliate commission due to some issue, in such a case Rakuten reserves the right to cancel the cashback for you.
2. Expensive purchases don't mean higher cashback:-   Some people complain that the amount of cashback they got is less than the calculated one (through the mentioned percentage).
The reason for this is that there is a cashback limit of $50 on every purchase, this means no matter how much expensive a product you buy, you won't get a cashback of more than $50.
And the reason for this (which i assume) is that some shopping websites have a cap on affiliate commissions for expensive products so if Rakuten can't get a commission more than a certain limit, how can they give you cashback more than that!
Is Rakuten a scam? (Final verdict)
NO! It's not! Although there are a lot of complaints regarding this company on internet, it is still a legitimate company and definitely not a scam. It has been servicing for a long time and has a lot of happy users. I would definitely recommend this company anyday to anyone looking for cashback opportunities.
Rakuten alternatives:-
Rakuten is definitely one of the best cashback sites out there but if you want to try some other options here are 3 best alternatives,
1. Ibotta
Ibotta is also a very well known cashback company out there but not as great as Rakuten. It is Denver based company started by Bryan Leach, It also has a mobile app that is available for both android and iOs.
2. Paribus
Paribus is slightly different from Rakuten or Ibotta, or you can say it works in a different way. Paribus scans your receipts of a specific store and gives you the cashback if the price of the item drops after you purchase. This company has a lot of postive and negative reviews on the web.
3. Befrugal
Befrugal is a little lesser known than the other players in cashback industry but it is still a great option for anyone looking for cashback opportunities. It is Boston based company founded in 2009 by Capital Intellect Inc.
I hope your question, "Is Rakuten legit?" is clear now! However if you have any queries do let me know in the comments section below.
Frequently Asked Questions (FAQs)
Is Rakuten safe?
Yes! Rakuten is a safe cashback company that pays it's users via cashback when they purchase an item (with cashback option) through any one of it's associated stores. Not all items in a store are available for cashback though.
How do you get money from Rakuten?
You can get money from Rakuten through Paypal or Check.
Is Rakuten worth it?
Yes! It is definitely worth it if you shop online alot. You can save money on every purchase which you make through any retailer which is associated with it.