Is Inbox Dollars legit?
Is Inbox Dollars safe?
Have you just come across Inbox Dollars?
or
Have you just heard about this site from someone but you are unsure whether this site is a legitimate and safe site or not?
You have just landed on the right place!
I have throughly reviewed this site in this article and covered everything that is a concern for a new user!
Alright lets get into the indepth review of Inbox Dollars,
What is Inbox Dollars?
Inbox Dollars is a Get-Paid-To website that pays its users to take online surveys, read emails, watch videos, and play games. It also provides cashback on your online purchases on specific stores and provides coupons for groceries, home items , beauty stuff and more.
It was started in 2000 by Daren Cotter who started this company as a freshman in college in the Uinited States. Currently the company generates upto 25 million dollars in revenue a year.
One thing that intrigues about this company is that altough it is an old player in paid surveys market, it has not made a significant progress in this area as compared to Swagbucks and Survey Junkie.
How does Inbox Dollars work?
Inbox Dollars works like any other XYZ paid surveys or rewards site. It's business model is also displayed on it's website as shown below,
Here is how they work,
1. Various notable and small brands pay Inbox Dollars to collect consumers' data from a specific demographics for them to improve their products and services.
2. Inbox Dollars takes the money and collects the required data from it's users in the form of online surveys, free or paid trial subscriptions, app installs and gameplays etc.
3. In return Inbox Dollars pays their users a small amount of money to compensate for their time and actions.
Also read: Is Survey Junkie safe? Survey Junkie review 2020
Is Inbox Dollars legit?
Yes! Inbox Dollars is a legit rewards and paid survey site that actually pays it's users for their actions. According to their website they have paid approximately 56 million dollars to theit users to date.
Inbox Dollars has been featured in a lot of big online publications including Forbes, Mashable, Bustle and few others.
The reason why there are a lot of angry reviews out there about survey sites is because they pay less! It's not because they are a fraud!
All the survey sites pay less and some of them are quite open about it, but that doesn't mean that they are a scam or a fraud!
Problems arise when people start expecting alot of from survey sites and expect to make a VERY good amount of money every month which is not possible. After all survey sites are not for full time income, they are just to reward you a small amount of cash for your opinions about some product, company or your needs.
Inbox Dollars is actually a child company of Cotterweb which has a BBB rating of A+. If you don't know what BBB (Better Business Bureau ) is, it is actually a non-profit organization that develops trust between the consumers and businesses.
Is Inbox Dollars safe?
Yes! Inbox Dollars is a safe and secure rewards and surveys site that you can trust anyday. It is acredited from BBB and has a great rating on majority of trust analyzer websites inclusing Trustpilot and Survey Police.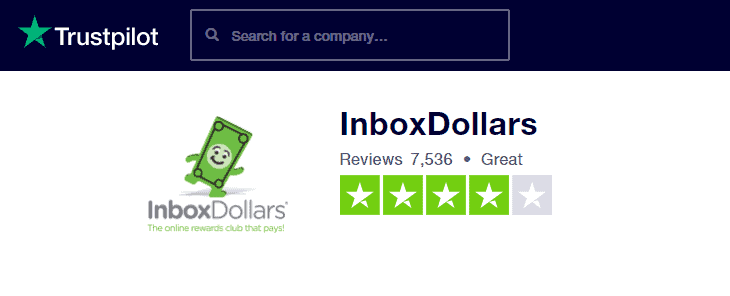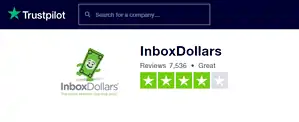 They have a solid track record of paying their users and have never been accused of a fraud or anything illegal.
However you need to keep one thing in your mind that these surveys sites can never become a source of full time income for you. You can just make an extra 50-100 dollars a month.
Here are some reasons why Inbox Dollars is a safe company,
1. They use an SSL certificate
An SSL certificate is actually an indication whether the website is secured or not. It can be identified by a green lock which is visible on the left side of the address bar before the domain name.
Inbox Dollars has an SSL certificate which means your data is secure on that site and there are very less chances of your data being stolen.
Although this certificate doesn't ensure the security, it is a safety and security indication given by the web browsers. This is the reaso,. Google Chrome shows "not secure" message in the address bar when a website your have opened is not using SSL certificate.
2. They are BBB acredited with 'A' rating
BBB (Better Business Bureau) is an organization that builds the trust between the companies and consumers by rating them based on some factors.
BBB has rated Inbox Dollars with "A" rating which is pretty great!
Although there are cases of BBB not acrediting the company in the correct manner, it is still a legitimate company to evaluate the trustworthiness and legitimacy of any company.
3. They actually pay you
There are a lot of scams in the paid surveys market that are visually very appealing but actually they don't pay their users. Inbox Dollars is not among those rather it is among those few survey sites that are legitimate and safe. They actually pay you for your tasks and never scam you. Though there are a lot of complaints regarding this site on various review forums, it is still a legitimate option.
You should always keep this thing in your mind that surveys pay very less.
Is Inbox Dollars worth it?
Honestly speaking, i don't think it's worth it! Infact none of the survey sites are worth it because they pay very less and take a lot of work from you. You can utilize the time you spend taking surveys in building a professional online business in the form of a blog which can become a long term asset for you in future.
Only go for Inbox Dollars if you have zero money in your pocket and want to make just a few extra dollars every month.
Also read: Is Swagbucks safe? Swagbucks review 2020
How to join Inbox Dollars?
Joining Inbox Dollars is very simple and it absolutely free to join.
Just click on this link to go their website and you ll see the following page,
Just enter your details and click on "Sign me up" to join the site.
After clicking the button, you would be asked to confirm your email and then you are done.
Inbox Dollar also offers a $5 bonus for new users.
How to make money on Inbox Dollars?
There a quite a few ways you can make money on Inbox Dollars,
1. Taking surveys
This is quite obvious one, afterall Inbox Dollars and other sites like this are mainly known for paid surveys.
Taking surveys is the primary way to make money on Inbox Dollars.
Surveys on Inbox Dollars can be about various topics. It can be a survey about your opinion regarding a specific footwear brand or a vehicle reliability.
Reward for each survey is mentioned alongwith it in the listings in the form of a Dollar sign which is quite helpful for you while opting for any survey.
2. Reading Emails
Inbox Dollars allows you to make money reading and confirming emails. You have to opt in this option and then you receive various emails about different kinds of products and services. You can subscribe to any service but you will be credited mainly for opening and confirming emails.
If you rarely open your inbox, and open very few emails, you would start getting less emails but if you open them and confirm them regularly you would start getting 2 to 3 emails per day.
3. Watching videos
Have you ever thought of making money watching videos? Well Inbox Dollars does pay you for that! Although they amount they pay is peanuts(LOL) but afterall you are just watching videos!
These videos can be advertisements about some product or services or they can be a clip from a TV show! Topics can vary depending upon users.
4. Surfing the web
All of us do surfing and mostly we use Google for that, but if you use Inbox Dollars search engine to surf you would be paid for your searches.
Inbox Dollars has their own search engine which you can use to surf and get paid.
5. Try free products/services
Do you like testing new products or services? Inbox Dollars provides the option to test products and subcribe to various services and in trturn you will be rewarded with some points.
6. Playing games
Besides other fun ways, playing games is another interesting way to make money on Inbox Dollars.
If you are an online games fanatic, you may find these games interesting.
Also read: 19+ ways to make money without a job
Advantages of Inbox Dollars
Inbox Dollars has five major advantages,
1. Sign up Bonus
Inbox Dollars has a 5 dollars sign up bonus for new users when they register. Thes 5 bucks are a sweet starting point and nice welcome to the platform.
2. Variety of ways to make money
Unlike some survey sites that only offer surveys for their users to make money, Inbox Dollars provides a variety of ways to make money which i listed above. This can be helpful for users if they don't want to stick to just one way to make money.
If you don't like taking surveys, you can go for other options like playing games, watching videos, and reading emails etc.
3. Simple navigation
The navigation of Inbox Dollars is really easy and user friendly. You can go for any option without any problem as all the options are available in the navigation bar which are self explanatory.
The money you would make for each survey is mentioned along with the survey making it easier for you to make any selection.
4. Topics of surveys are mentioned along with each survey
Topics of each survey is mentioned along with the survey which can help you in selection of survey. You may find the topics of some surveys very annoying which you can avoid before trying it.
Disadvantages of Inbox Dollars
Along with advantages, Inbox Dollars also has some disadvantages which include,
1. Paypal is not available as a payment option
This one is a major problem as most of you must have Paypal accounts and would definitely want to receive money directly into your Paypal account.
Inbox Dollars unfortunately does not provide that option and offers Check as their primary payout method.
The minimum payout is $30.
2. The creepy $3 processing fee
This one is absolutely insane! They charge $3 processing fee just for sending your money. Imagine making $30 bucks after a lot of hard work and then paying 10% back to them.
3. Payout is less
This one is a major problem with most of the survey sites out there.
Survey sites are only for few extra bucks every month not for a decent income so don't expect much from these survey sites.
Who is Inbox Dollars is best for?
1. Someone who is looking to make some extra bucks every month enough for his coffee or perhaps Gas.
2. Someone who is very busy and gets very small time to use internet.
Who should avoid Inbox Dollars?
1. Someone who has the time and he really want to make money online. (I recommend blogging in this case)
2. Someone who wants to make a full time taking online surveys (You just can't!).
Final verdict: Is Inbox Dollars legit?
At the end i would say, Inbox Dollars is a legitimate and safe survey site but you can't make a full time income using this site. Survey sites are just to make some small amount of money every month and not to make a full time living.
Frequrently Asked Questions (FAQs)
How much money can you make from Inbox Dollars?
Nothing can be said about it as it totally depends on your efforts, demographics and few other factors.
How long does it take to get paid from InboxDollars?
Delivery can take atleast 2 weeks if you are a normal member, however if you are a Gold member you can recieve the payment within 3 to 9 days.
Which is better swagbucks vs InboxDollars?
According to online reputation and user reviews, Swagbucks is better than Inbox Dollars.
| | |
| --- | --- |
| Review | Inbox Dollars |
| Summary | Inbox Dollars is GPT website that pays you to take online surveys and perform a variety of other activites like watching videos and playing games etc. |
| Author | Basit Ali |
| Rating | 4.5 (out of 5) |