Is Survey Junkie safe?
Is Survey Junkie legit?
Are you curious to know the answers to these questions?
Because you have just heard alot about this site but you are too skeptical to try it?
You have doubts whether your personal informational (your email, phone number, address) is safe or not?
Whether you'll be paid for your efforts or not?
Well we will address all these questions one by one in this Survey Junkie review in the most unbiased way possible for us!
I have seen some people complaining about this site in the past few weeks. We'll address all those concerns which people have about this site.
Let's just get into the Survey Junkie review,
What is Survey Junkie?
Survey Junkie is an online paid survey site that pays it's users to take various kind of surveys based on their interests and needs. Some surveys are short whereas others take even more than 15 to 20 minutes.
Survey junkie was started as a online market research company in 2013 in California by a firm called DISQO which is now known as Blue Media Ventures.
Since it's foundation, Survey Junkie has been really successful in the online surveys market space and has a lot of happy users.
If we compare this survey site to other leading sites including Swagbucks, Pinecone Research, Vindale Research and My Survey, we realize that this site has progressed tremendously and gained such a good reputation in a much shorter span of time.
Which business model do they use?
They use the standard business model which is being used by most of the survey sites out there.
What they do is that they partner with various brands from different industries who are interested to study the consumers' behaviour. These brands pay Survey Junkie to collect the consumers' opinions and reviews about various products and services they use in their daily lives.
Survey Junkie takes money from these brands and pays their users a minute portion of it to get their opinion through surveys.
I hope that is clear! There is no inside thing! (or is it?)
Is Survey Junkie legit?
Yes! Survey Junkie is a legitimate paid survey site that actually does pay it's users and has more than 3 million active users. Ofcourse it can not make you a living but can help you pay your gas bills, have Starbucks coffee, go on a small picnic or save some amount of money every month to start a profitable online or offline business.
By the way if you want to start a profitable online business, you can check out my step by step guide to starting a profitable blog that costs less than 100 dollars to start and has huge potential to be scaled to huge level where you would be able to start a passive income stream.
Is Survey Junkie safe?
Yes! Survey Junkie is a safe company. There are a lot of scammy and unsafe paid survey sites on the internet which never pay you and waste your precious time, but Survey Junkie stands out as one of the most authentic and legitimate survey sites alongwith Swagbucks, InboxDollars, Vindale Research and some other notable players.
Following are some of the key indicators that they are a safe company,
1. They use SSL certificate
Although an SSL certificate does not ensure that a company is 100% safe, still it is a safety metric that we can't ignore.
If you don't know what an ssl certificate is, it is actually a certificate that is integrated into a website and it's url structure changes from http:// to https:// like this,
2. They have a BBB rating of B
BBB is an international Business acredition bureau that rates the cerified businesess all over the world.
Survey Junkie is actually a consumer research company which is owned by Blue Media Ventures which has a BBB rating of B.
3. They actually pay you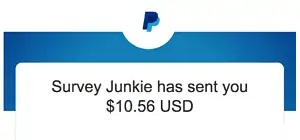 Although some people complain regarding the payment issues, Survey junkie does pay it's users.
Though some users have raised some concerns about this site this year, that i have addressed in this article, i genuinely think that it is still a better option than many other survey sites.
How does Survey Junkie work?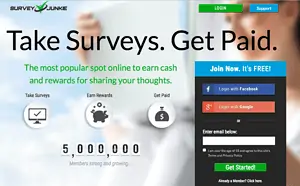 Just like most of the survey sites, Survey Junkie works in a very simple way and there are definitely no technicalities involved!
All you need to do is go their website by clicking on this link, then sign up by giving your personal information, confirm your email and then start using the site. Their is no subscription fee!
When you first open the website as a registered user, you have to answer a 16 minutes profile survey in which you are asked question about you, your family and your interests which you can decline to answer but they give you 50 points for that.
There are various small activities in the start which can help you gain some initial points like signing up will give you 25 points, confirming the email will give you 25, completing the profile will give you 50, taking a tour of "How this works" will give you 5 and taking other profile surveys will give you 10 points each.
Also read: Is Swagbucks safe? Swagbucks review 2019
How to make money on Survey Junkie?
There are generally two ways you can make money on Survey Junkie,
1. Completing Surveys
That's quite obvious! Afterall the site is actually centered around surveys.
There are various kind of surveys and each one of them has different kind of questions and time needed to take them which is mentioned beside them so that you can know how long will a certain survey take to complete.
At the start of each survey you are asked some questions related to you and once they are sure that you are a suitable person for this survey, you'll continue with it otherwise the survey will be cancelled BUT you are still compensated a little for your answered questions.
Whenever you have a pending survey, you receive a notification via email, if you are quick enough to open your profile, you'll get the get the opportunity to fill the survey but if you get a little late and then open your profile, you'll see that the survey is alreay filled.
The topic of these surveys may vary and would never know which kind of questions you are upto.
2. Focus groups
Focus groups are a great opportunity for users to make more money than usual.
These groups are the the special groups where users get to take higher paying surveys and sometimes even get a chance to test the products physically if the advertiser wishes to.
The advertisers in focal groups have certain demographic requirements so you'll only qualify if you fulfil them.
How does the Survey Junkie point system work?
Survey Junkie point system is very simple and there is not much math involved!
For every survey that you take or any offer you complete, you are awarded in the form of points as shown below,
And there is no ambiguity regarding the relation between points and USD as 100 points earned on Survey Junkie equals 1 USD.
You can redeem these points via gift cards of Amazon, Walmart, Target and many other retailers or you can simply withdraw the cash through Paypal.
Also read: Is Rakuten Legit? Ebates review 2020
Is Survey Junkie worth it? How much can you make?
This is the part everyone is genuinely concerned about.
Can you make a satisfactory amount with Survey Junkie? Can you quit your job and pursue the survey business full time? Can you make a full time living taking survey on Survey Junkie?
As you presumably guessed, NO!
Survey Junkie won't make you a fortune.
Why?
Because it's just a consumer opinion website that rewards it's users for their opinion but that money is not even close to a suitable living.
In fact, they even state it clear on the website "You Will Not Get Rich," which is to be realistic way more honest than any other money making survey panels.
The payout for each survey is variable. Obviously, the longer the survey is, the more you'll get paid for finishing it.
The average survey is going to make you around 1 to 3 bucks. It's not much, but comparatively a much better rate than what most of the survey panels have to offer.
The amount of money you make on a survey panel like Survey Junkie completely depends upon a number of different aspects. The biggest one is the quantity, the number of the surveys you get invited to.
Every user is different, and they are all going to qualify for different kinds of surveys. The requirement of a vast survey bulk births the most common complain, which definitely is of not getting enough surveys.
This is a complaint that is very common with survey sites, near about all of them face the same dilemma! We will discuss this further in the complaints section.
The amount of money made through Survey Junkie might not sound much but it is definitely worth the few minutes you put into filling out the surveys.
So it's definitely not a fortune but a legitimate survey site to make some money every month.
Also read: Is Inbox Dollars legit? Inbox Dollars review 2020
Survey Junkie advantages
1. Convinient to make money while relaxing in your bedrooom:- Surveys give you the freedom to make money from your home without any startup cost. Although the money you make is less, but it is quite convinient.
2. Reliable payment options:- The payment options offered by Survey Junkie are very reliable and safe. Currently it offers payment through Paypal and Gift cards of various retailers like Amazon, Walmart and Target etc.
3. Simple and user friendly interface:- Survey Junkie has one of the best interface among all the survey sites. Since they only offer surveys and Focus groups to make money, their interface is very straight forward and simple to use.
Survey Junkie complaints
For the past 3 or 4 months, i have been seeing a lot of complaints regarding this site on various review sites. Back in 2018 this company was considered one of the best survey site ever but lately there have been a lot of complaints from their users about their system.
Down below are some of the complaints by Survey Junkie users,
1. Lack of Surveys:- This is a common problem with most of the survey sites out there. You won't get enough surveys to take on Survey Junkie. The solution to this problem is to sign up to a bunch of survey sites so that you can take enough surveys daily.
2. You won't qualify for enough surveys:- Again this is a typical problem with surveys sites that people often complain about. But i have read on some review sites that Survey Junkie does compensates you if you fill a survey and do not qualify for it.
3. Other random issues:- A lot of users were complaining abour random issues with Survey Junkie like unable to get the payout, not getting the points they deserved, difficult to verify account and bla bla.
My final take – recommendation!
I hope your questions, "Is Survey Junkie safe?"  and "Is Survey Junkie legit?" are clear!
However I always recommend my visitors not to go for shortcuts like this and start a professional online business that can pay you off in the long run.
In my point of view survey sites are not worth your time. They are only good if you want to make some quick money while doing a 9 to 5 job.
There is a wide variety of ways to make online money from your comfort zones and the number 1 way is blogging. I have been blogging for the last one year and I have made more than 1000 dollars in this one year (I know this is still not enough but I am improving day by day and I hope I would be able to make a full time living as a blogger soon.)
If you want to start a profitable online business today and make money without a job, check out this FREE course.
Frequently Asked Questions
Is Survey Junkie worth it?
Survey Junkie is not worth your time if you really want to make money online. It is good to make some extra money every month but if you want to start a profitable online business, then check out this tutorial to starting a profitable blog online.
Can you trust Survey Junkie?
Yes you can trust Survey Junkie! It is a legitimate survey site that actually pays.
Which one is better? Swagbucks or Survey Junkie?
Swagbucks is better than Survey Junkie because it has more variety once it comes to ways to make money. It also supports more countries than Survey Junkie and has a better reputation.