Do you want to know how to make money without a job in 2022?
You have exactly come to the right place!
I am strong advocate of entrepreneurship and always try to help people start their own online or offline business and make a full time living from it!
In this article i have written 20 beginner friendly ways on how to make money without 9 to 5, first 15 are online ways whereas the last 5 are offline.
I am sure by the end of this post you would have a solid idea to start making money without getting a real job,
Let's start!
How to make money without a job [20 ways]
Here are 20 ways to make money without a job,
1. Make money as a Proofreader
Do you have a good command over English punctuation and grammar?
Can you easily sort out the grammatical and punctuation errors from a paragraph?
If so, then you can make money as  a proofreader.
The job of the proofreader is to go through the given document and ammend any sort of grammatical, spelling, formatting and punctuation errors.
Proofreaders make anywhere between $12-$20 per hour and this rate can increase upto $50 as you become highly experienced and skillful.
If you want to become a professional proofreader, you can take this Proofreading course by Proofreading Academy that goes through all the knitty gritty of proofreading and help you kickstart your career.
It is probably the only Proofreading course out there, that gives you employment opportunity after you pass it's final test with the percentage of over 80%.
You can try this course for free and then purchase it if you are really serious about it,
2. Start self publishing with Amazon Kindle
Is their an author in you?
Do you have words the world want to hear and read?
OR
Are you good at something and can write a short guide about it?
Many people have a strong knowledge about something and want to write a book on it but stop thinking about it when they hear about all the mess involved in the process of publishing.
Thanks to Amazon!
Amazon has it possible for authors to self-publish their books on Kindle without spending a single penny on it! You can write a long fiction ebook or a short non-fiction ebook and self publish it today!
Although ebooks on Amazon are priced low but considering the sheer amount of traffic Amazon receives you can expect to make a decent money every month.
Check out this video in which Stefan explains the whole process of making money on kindle from choosing a niche to marketing your ebook on social media,
Hope this helps!
Also read: How to make 10k a month [10 legitimate ways]
3. Become an Amazon associate
You must have bought something from Amazon in your life but do you know they also have an associate/affiliate program that allows people to promote and review their products and make money per sale as commission.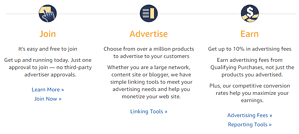 If you are unaware about this you are really missing a lot because people are making full time living through this business model.
One such example of successful amazon affiliate marketers is Luqman Khan who made a website (focused on reviewing Amazon products) and made over 40,000 dollars consistently for an year before he sold it in december 2017 for $500,000. Read his case study here.
How can you make money with Amazon Affiliate program?
The best and the most used way is to make a website focused around one small niche and then reviewing niche related products on it.
Let's say if make a website on Landscape photography, i would review DSLR cameras and lenses on it and when people would buy anything through my referal link i would get a commission.
Also read: How to make 100 dollars a day [20 legitimate ways]
4. Start dropshipping with Shopify
Dropshipping is one of the best way to start your online business if you have got some capital with you!
What is dropshipping?
Dropshipping is a process of selling the products without storing  and shipping them yourself. It involves listing a third party product on your ecommerce store and getting it shipped directly to the customer through the actual supplier of that product.
Dropshipping involves following steps,
1. Create an online store on Shopify (free trial available)
2. Go to Aliexpress and choose the products you want to sell.
3. List those products on your Shopify store with a profit margin of 20 to 30 percent.
4. Start promoting the products through Facebook or Google ads.
5. When a customer places an order on your store, you need to buy that product from Aliexpress and get it shipped directly to your customer.
6. You get a 20% to 30% profit per sale.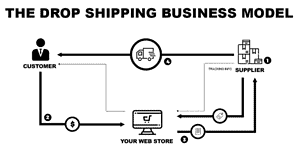 The best thing about dropshipping is that you don't have to get into inventory and shipping, you act as the middle man just like an affiliate marketer and make money from the comfort of your living room.
Check out this step by step guide to dropshipping by Shopify.
Also read: How to make money in high school [14 legitimate ways]
5. Start a blog
A blog is a website where you post articles related to some topic just like this blog.
When i was in high school i had no idea how could i make some bucks without working for someone,
It was one summer of my college when a friend of mine told me about blogging and how his cousin used to earn more $10k a month with a blog!
At once i was shocked because i could not believe somebody could make such amount of money and that too without a job,
BUT later on when i saw the income reports of some bloggers like the one below i got convinced,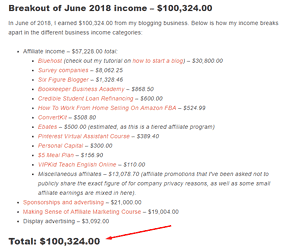 From that day onwards my perspective about making money got changed and i started researching about blogging.
Long story short, today i am making a decent amount of money with this blog and i teach others to do the same!
In last 3 months I made over $3000,

My growth is not that fast but i have personally seen multiple bloggers hitting 10k mark within a few months.
Dislcaimer: Blogging is like any other business out there, you can make a lot of money as a blogger but you can also fail but the reason why i put blogging above all is because it requires very less investment (about $65) and it has a great potential!
There are thousands of blogging success stories and yours can add to them if you are really serious about getting into the world of blogging.
Want to start a blog?
It takes only 20 minutes to start a blog on wordpress for about 65 bucks.
Yeah its that cheap! This little investment of 65 dollars can be your investment of lifetime considering the potential blogging has!
One thing more,
You don't need any technical knowledge to start a blog!
WordPress is completely user friendly and the whole process is so easy that even an 80 year old can do it without any hassle.
Also read: How to make money online for free (11 options to go for in 2021)
6. Start online t shirts business
Who doesn't love t shirts?
Most of us have plenty of them in our closets and are always ready to buy new ones!
Considering the amount of public interest in this product and high potential to be sold, you can start a successful online business selling t shirts.
BUT! production and shipping cost too much! Don't they?
Yes they do! but you need not to worry as companies like Teespring and Cafepress have made the things very much easier for you!
Now you can sell t shirts online without getting into the process of production and shipping,
All you need to do is to design an eye catching t shirt through photoshop and submit the design to any of these websites (Teespring & Cafepress).
After that you have to promote the t shirt through Facebook ads or any other traffic source and get as much sales as possible.
These websites take a fixed percentage of t shirt's price as their profit and give the rest to you.
Check out this video guide to creating your first Teespring campaign,
I hope the process is clear to you, if you have any query post in the comments at the end of this post.
Also read: Under the table jobs (10 options to go for in 2021)
7. Start making YouTube videos
YouTube is the source of income for millions of people around the world and the numbers are increasing on daily basis with new faces rising everyday!
You can start making videos about anything you love!
It can be gaming, photoshop, relationship advice, skincare tips, cooking, tech reviews, prank videos, products unboxing, programming, educational tutorials, motivational videos and or anything else you can think of.
The key to success on YouTube is quality content, consistent content creation, using the right keywords in the title and description of your videos and interacting with your viewers.
Youtube is a great way to start your online journey as it is completely FREE to join and you can start making videos of your choice.
Peter from Dollarsanity grew his youtube channel from zero to 100,000 subscribers in less than 2 years.
Some people can't face the camera and talk but that's not the issue as you can make videos with out even facing the camera.
Want some ideas?
There are alot of ideas you can follow and start making videos, some of these ideas are,
Cooking/baking
Gaming
DIY crafts
Life hacks
Yoga
Exercise and training
Tutorials (e.g tech and photoshop tutorials)
Travel
Fashion
Some of the above ideas require you to face te camera but not all.
Once you are just starting out, you don't have enough money to buy expensive equipment so i recommend you to use your phone camera to make videos. I have seen a lot of youtubers using mobile phone camera and they are doing pretty amazing.
How do youtubers make money?
Youtubers make money through a lot of ways but the some of the most common are mentioned below,
1. Google Adsense
Google Adsense is the most widely used way to make money through youtube. Google Adsense is basically a Google service which allows you to place ads on your videos and make money through views on video and clicks on the ads.
In order to place Google Adsense ads on your videos, you need to have atleast 1000 subscribers and 4000 minutes watch time on your videos.
2. Affiliate marketing
Affiliate marketing is one of the most profitable ways to make money through your youtube channel.
There are a lot of affiliate networks and programs which you can join and promote their products and services depending upon your niche.
Some of the most famous affiliate networks and programs are Amazon affiliate program, Clickbank, Shareasale, Commission Junction and Impact Radius etc.
3. Sponsorships
Once your Youtube channel grows, various companies approach you to promote their products and talk about them during your videos and offer a good amount of money in return.
Some youtubers are making a lot of money through this monetization model but it requires good number of subscribers and views for this.
Also read: Best Weekend jobs | 10 options to go for in 2021
8. Get paid to write
Do you have a knack for writing?
Do you enjoy writing for long hours without stressing  out?
Then why not turn this hobby into a profitable online business!
A content writer is a person who writes for different websites, blogs, online magazines, social media pages and much more.
Anybody with a good grip on English language can become a good content writer.
Business is growing day by day and so is the need of content! Companies need content for marketing and they are willing to pay big bucks for that!
Do you want to become a content writer?
The best way to start your freelance writing career is to,
1. Select a niche (e.g fitness)
2. Start a blog and start writing eye catching articles
3. Start guest blogging on industry blogs
4. Once you have made a solid portfolio start cold pitching clients through social media or directly mailing them.
The second option is to join freelance writing websites like Upwork but the competition on these websites is fierce and the rates are also much lower so it's better to go with the first approach.
Want more guidance and insights?
Check out the website makealivingwriting.com by Carol Tice which is completely dedicated to freelance writers.
Also read: Paid focus groups | 10 best options to for in 2021
9. Start promoting Clickbank products
Clickbank is a website that connects affiliate marketers with product/service owners.
How it works?
Product owners put their product on Clickbank and specify the amount of commission they would pay per sale.
Affiliate marketers choose the product of their choice and promote it to earn commission.
The products on Clickbank are mostly digital products like ebooks, online courses etc.
Unlike Amazon which has strict rules regarding product promotion, Clickbank is quite flexible in this regard. You can promote the products through social media, forums, your blog or through any other channel you find suitable.
There are quite a few strategies you can use to promote Clickbank products and earn decent amount of money every month.
The most common are,
1. Make a website, review Clickbank products on it and get targetted traffic from Google to get sales.
2. Make a product landing page through any landing page software and promote it via Facebook/Google/Bing ads.
Also read: How to make money as a kid [17 legitimate ways]
10. Become a transcriber
Is English your first language?
OR
Are you as good at English as natives?
Are you an avid listener and have a fast typing speed?
If that's the case, you can start making money from your home by working as a transcriber.
A transcriber is a person who converts audio or video content into text.
On average, transribers in the United States make around $15 an hour working remotely.
There are a lot of transcription websites that allows you to sign up as a transcriber and start start getting paid per successful completion of a task.
Crowdsurf , Transcribeme and Scribie are some of the companies you can join as a beginner.
Also read: Online jobs for college students [15 legitimate resources]
11. Become a copywriter
Copywriting is the game of professionals!
It is one of most lucrative ways to make a full time income with a complete freedom on your working hours.
Do you have that convincing power to make somebody buy something by highlighting its best features in the most appealing way?
Do you have the ability to come up with interesting lines like these from Articulate,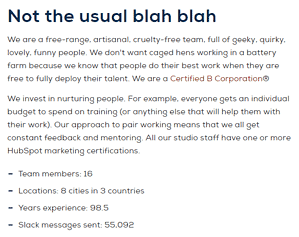 A copywriter is a person who writes sales copies, emails, web content and ads that catches the attention of people.
Copywriting requires strong competency on language, appropriate tone and an ability to persuade.
Beginner copywriters earn an average of $15/hour whereas professionals make about $40/hour.
The best way to start as a copywriter is to choose a niche, gain a strong grip on your niche, make a portfolio website, write some samples and start marketing your services through social media and pitching companies directly via email (in the most professional way).
Fortunately copywriting is a skill that can be learnt through books and practicing on daily basis.
Check out this book by Robert W. Bly.
Also read: Work from home Jobs for moms (17 options to go for in 2021)
12. Become a graphic designer
A copywriter persuades people through his words whereas a graphic designer through his eye-catching graphics.
Graphics designers are in high demand nowadays and their demand will continue to grow because more and more businesses are entering the market on daily basis and they need appealing visuals to attract customers.
Graphics designing can be learnt online through websites like Udemy and Lynda. Youtube also has a lot of tutorials on Graphics designing.
Graphics design is a vast domain and a lot of services come under its roof e.g. Logo designing, brochure designing, business cards designing, stationery designing, banner designing and social media content designing etc.
The best way to start as a graphics designer is to first gain strong command over your skills, join freelance websites e.g Freelancer, Upwork and Guru etc and make a solid portfolio to attract high paying clients.
Also read: Car Advertising (5 legitimate companies that pay you to advertise on your car)
13. Sell on Etsy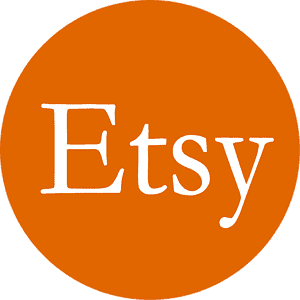 If you are a creative guy and have crafting skills, you can make money selling crafty items on Etsy.
Etsy is a huge marketplace dedicated to crafty items which includes Jewelery, clothes, vintage items, toys, household items, decoration pieces and much more.
You can join Etsy as a seller and start selling your Art at a decent rate.
As far i have seen, many Etsy sellers have their own blogs where they regularly promote their products to their audience to get more sales.
14. Work as a virtual assistant
As the name indicates, a virtual assistant is a person who works for some company or an individual as an assistant remotely.
A lot of people are making full time income working as a virtual assistants from the comfort of their homes.
Being a virtual assistant you have to perform different online tasks like email management, blog management, database management, social media posting, content writing and Data entry etc.
The best way to get started as a virtual assistant is to choose one skill or two e.g. email management and blog management and get yourself skilled in those particular areas.
After becoming proficient in some particular skill, start offering your services on freelance websites like Upwork and start making a solid portfolio to approach big companies by directly pitching them your services via email.
Helpful resources:
Starting a Virtual Assistant Business – Entrepreneur.com
15. Start providing social media management services
Companies, whether they are small or large don't have time to manage their social media pages themselves so what they do is that they hire social media managers to handle and manage their social media pages effectively.
With that being said, it is a great opportunity for teens to get into this field as they are more tech savvy and love to use social media!
Besides knowing the basic dos and donts of social media, knowledge of Facebook ads is a plus as majority of the companies require their social media managers to have a strong grip on Facebook ads so that they can run ads effectively.
Want the step by step process?
Check out this amazing video by Jordan Platten,
And if you want an actionable guide on how to increase your instagram followers for your clients, check this article by Instasize: How to get more followers on Instagram: The Complete Guide
Hope this helps!
Also read: Free Paypal money | 12 ways to make money on Paypal
16. Walk dogs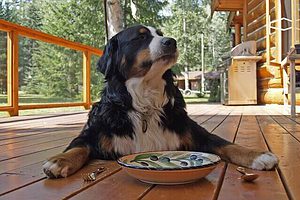 Yeah! you can make a great deal of money walking dogs in your spare time!
On average dog walkers make about $15 to $20 per 30 to 40 minutes of dog walk in the United States and Canada.
This is a great side hustle idea for anyone looking to make money in spare time to cover their expenses.
You can take multiple dogs for a walk at same time but for that you would need take permission from the owners as they might have issues with their dog being walked with others.
If you are a dog lover, you would love doing this and would never get tired of it.
Before getting into this business consider taking a course about how to effectively treat a dog and react in certain conditions. You can check this course on Udemy about professional dog walking.
Helpful resources:
17. Start babysitting
Do you love to spend time with babies or playing with them?
Why not make some bucks doing that?
Babysitting is a great way to make some extra money as a teenager that pays quite well.
On average baby sitters under 21 years of age make about $12 an hour in US, which is NOT bad at all!
If you are guy who has younger siblings at home, you must have some experience looking after them which can help you in your baby sitting side hustle.
The best way to start your own baby sitting business is to let your friends, relatives and neighbours know about your services so they could try your services in the need of the hour. This way you can get quick experience and start getting clients through referrals.
Helpful resources:
18. Flip stuff
Flipping has always been a great side business idea and people of all ages have been involved in it,
There is no rocket science behind the concept,
It's just buying something for cheap and selling at a higher cost by either refurbishing it or just selling it away with a higher price tag! (It works so damn well)
There is a lot of money to be made in this business with new opportunities rising everyday!
You can start this business through Craiglist by buying cheap stuff from people looking to empty their garages, repairing that stuff and selling it on craiglist for a higher price.
Helpful resources:
Also read: Online Proofreading Jobs (36 options to go for in 2021)
19. Start private tutoring
Are you good at studies or specifically some subject?
Can you teach other teens and help them with their studies?
Why not start private tutoring?
Private tutors actually make a lot of money as their hourly rate is much higher than normal tutors.
On average private tutors charge $30 to $40 an hour which is infact A LOT.
You can start private tutoring by telling your friends, relatives, and neighbors about your service and encouraging them to spread the word.
Also read: Online Tutoring jobs | 8 websites to join in 2021
20. Mow lawns
(or remove snow)
Don't know about you but i have seen a lot of guys mowing lawns and making a decent amount of money every month,
The world is getting busier everyday and people don't have time to do tasks like mowing their lawns and removing snow themselves.
You can look around you to check how many people in your neighborhood have 9 to 5 jobs and they want someone to mow their lawns.
Chances are that you would find atleast one or two families like that!
The problem here is buying a lawn mover, which is really expensive (costs anywhere between $500 to $1000). The possible solution for this problem is to first get a couple of clients and then rent a lawn mover on the days you have to work (mostly weekends).
Final words:
This is a massive list of ways on how to make money in high school without a job and not all the ways might be suitable for you, however there are some ways i believe are universal and anybody, of any age living in any corner of the world can make use of them,
One of them, rather the best one among them is Blogging which i opted for almost an year ago.
Anyways which way do you think best suits you?
Tell me in the comments below!
Frequently Asked Questions (FAQs)
How can i make a living without a job?
There are a lot of ways you can make a living without a job. The best way is to identify your passion, analyze it's profitability and make a professional blog around it. Blogging is not easy but if given the proper time, attention and hard work it can give amazing results. There are a thousands rof bloggers around the world who are making decent income through their blogs. Check out my free guide to blogging in which i explain the step by step method to make a profitable blog.
How can i get rich without a job?
You can get rich without a job by analyzing a profitable market, starting a business sround it, making yourself an authority and then scaling the business to the next level. This may sounds easy but actually requires ton of hard work and struggle and may or may not work for you. I recommend you to start with small business and then expand it once you find success.
How can a teenager make money without a job?
There are a lot of ways a teenager can make money without a job. The five best ways for a teenager to make money without a job are blogging, freelancing, paid surveys, dropshipping and social media management. If you are a teenager looking to make money without a job, i would recommend you to start a freelancing and make a blog on side to showcase your freelancing portfolio.
How to make money in high school without a job?
There are a lot of ways you can make money in high school without a job. The primary ones are starting your own blog, freelancing, mowing lawns, babysitting, pet sitting, selling used stuff, flipping stuff and making YouTube videos etc.
How to get money in one day without a job?
You can get money in one day without a job by selling old and un-used stuff at your home, selling home-made food/lemon soda/candies in public mainly outside schools and in parks, providing freelance services through social media if you have any skill, doing small gigs like mowing lawns, removing snow, cleaning homes, babysitting and pet sitting.
How to make money at 14 without a job?
You can make money at 14 without a job through freelancing, blogging, buying and selling stuff after refurbishing it at a higher price, selling lemon soda/candies/home-made food outside school or in public and many other ways that are explained in this article.