Have you recently come across Swagbucks?
Have you heard about it from a friend or read about it on some blog?
Whatsover the case is, you are here because you want to know,
Is Swagbucks legit?
Is Swagbucks safe?
Is Swagbucks worth it?
In this Swagbucks review article, i have thouroughly explained everything you need to know about Swagbucks and why you should join it for an extra income every month.
Let's Start!
What is Swagbucks?
Swagbucks is an online rewards website that pays it's users to complete various offers and perform small activities like searching the web, installing apps, playing games and completing online surveys etc.
It was founded in 2008 by Scott Dudelson, Josef Gorowitz, Ron Leshem and Eron Zehavi. Since then it has been paying it's users continuously and by now it has become the most well known survey site which is known all over the world.
Is Swagbucks legit?
Yes! Swagbucks is a legit and safe online rewards website that has paid more than 150 million dollars to it's users to-date and is paying continuously. It is not a scam and is currently sponsored by some of the top brands from all over the world. Check this review to learn more.
According to the a renowned reviews website, Trustpilot, it has an excellent rating of 8.3 out of 10.

Join Swagbucks by clicking on the button below,
How Does Swagbucks Work?
It's easy! You simply go and sign up on their website and then complete various offers in the form of online surveys, app installs, playing games, searching the web and much more (everything is explained below)
Now we need to know about the business model of Swagbucks because we want to know how they make money and reward their users for various actions.
Well Swagbucks and most of the other survey sites out there have relationships with big and reputed brands which regularly pay them money to collect user data and consumer opinions so that they can enhance their products or services.
For example, let's say company ABC is a big food brand and they want customer opinion from a huge user base inside the United States. They would simply pay Swagbucks a certain amount of money and Swagbucks in return would pay their users (based in US) to fill out a survey related to food. After getting the surveys filled, Swagbucks would simply send the data back to company ABC.
This pretty much sums up the whole business model of Swagbucks and other sites like Swagbucks.
How to make money on Swagbucks [10 ways]
Their are a lot ways you can make money on Swagbucks. In this section we have listed and explained all of the ways which you can use to make money on Swagbucks,
1. Use Swagbucks search engine
Well Swagbucks has their own search engine which is a great opportunity for you to earn rewards.
Swagbucks pay their users a certain amount of points for every search they make searches through their search engine.
Their search engine is actually powered by Yahoo so you don't need to worry about the legitimacy and accuracy of the information retrieved by it.
On average you can expect to make 10-20 SBs for every 20 to 30 searches (depends on the search queries also).
If you use Swagbucks search engine for like six months, you can expect to make about $350.
Also read: Is Rakuten Legit? Unbiased review 2020
2. Take surveys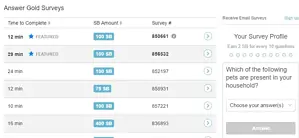 Surveys are the most common method to make money on Swagbucks and the paid surveys is the thing Swagbucks and many other reward sites are primarily known for.
Surveys are a good way to earn some points in your free time. Each survey takes an average of 20 to 30 minutes adn you can make 40 to 100 SBs for that.
Beside regular surveys they also have polls which you can answer to get some quick points.
Also read: Is Survey Junkie safe? Survey Junkie review 2019
3. Watch Videos
Watching videos is another way you can make money on Swagbucks although it pays less as compared to other options but still it's worth giving some time.
The videos you get to view are of various categories e.g. news, viral content and ads and you may or may not like to watch them, however they are a great way to earn some points.
4. Play games
Do you play games in your downtime or during your waiting time? Of course you do, it's okay to admit it!
You can play some of your favorite games on Swagbucks and earn SBs while you're goofing off. The first question that will come to mind is whether or not there are games that you actually want to play or enjoy playing.
If you like Solitaire, Bingo, Bejeweled, Trivial Pursuit, Tetris, Deal or No Deal or Wheel of Fortune, to name a few, then you are apt to find the games you want to play on Swagbucks. You don't earn tons of points for playing games, but every little bit counts, right?
Here's another quick tip: If you're not a game player, you can always allow your kids or others to play through your Swagbucks account and earn off of their efforts.
5. Download and install apps
Just like watching videos and playing games, you can also make money on Swagbucks by downloading some apps, installing them and using them for some time (in some occasions).
You can get a varied amount of points by installing these apps (generally between 10-50 SBs).
There are both free and paid apps available, with paid ones having more points than the free ones.
6. Print grocery coupons
You can also set aside extra cash and win cash by printing basic need coupons from Coupons.com. These are the accurate coupons you see somewhere else on the web or in the newspaper. The online difference is that you gain 10 Swagbucks focuses for each recovered coupon.
Some of the time, Swagbucks offers extra focuses for each recovered coupon. For instance, temporarily, you get 25 rather than the standard 10-point payout.
7. Earn cashback while shopping online
They additionally have a shopping area where you can win one Swag Buck for each dollar that you spend there.
At first, I didn't hope to see "huge" retailers there, but later on i found some notable brands like Walmart and Macy's.
Now i am not advising you people to start shopping there just for the sake of earning some points (that's actually ridicolous!)
It works just like any other cashback site like Ebates and Ibotta where you buy stuff from any retailer through their referal link and get some percentage of product price as cashback.
My advise is that whenever you have the need to shop online from a retailer, just search it's name on Swagbucks and access it from there instead of accessing the retailer website yourself.
Also read: Is Ebates safe? Ebates review 2019
8. Sign up to services
A lot of digital service providers contact Swagucks to get leads and sales.
Being a Swagbucks user you can sign up to these services and earn some SBs for that.
These services can be a TV channel subscription, a software trail or any other sort of digital services subscription.
There are both free and paid services available with paid ones having higher points but don't subscribe to any paid service just for the sake of few points, only go for it if you really need it.
9. Enter sweepstakes
Have you ever been lucky enough to win something in a sweepstake? Do you trying your luck in competitions and sweepstakes?
Swagbucks has limited time giveaways in which they give out various prizes to their users which can be an Apple gadget, a buch of SBs or anything else.
10. Invite friends
Swagbucks also has a referal program through which you can refer your friends to Swagbucks and earn 10% of all their earnings.
Secondly when your friend reaches 300 SBs, both of you get an extra 300 SB ($3).
You must have a small or big friends circle, just tell all of them about Swagbucks and give them your referal link to join.
11. Complete daily goals
If you open Swagbucks website, on the left of the screen, you'll get to see a list of tasks which Swagbucks recommends to its uses on daily basis.
Each of these task has a certain amount of points which you can earn after completing the task.
Besides these tasks, there is a daily goals option in Swagbucks where you can see a fixed number of points which is actually a daily aim for you provided by Swagbucks. If you acheive the number of points mentioned there you'll get a BONUS.
12. Watch out for Swag codes
Swagbucks has a browser extension to receive notifications about the Swag codes whenever they are available.,
Swag codes are the codes which you have to find out by opening the Swagbucks blog, their twitter or Facebook as mentioned in the notification panel.
After finding out the code, you have to copy it and paste it in Swagbucks dashboard codes section and you'll receive a specific number of points for that.
You'll also receieve 50 SB just for installing the browser extension.
Advantages of Swagbucks
1. The duration of the survey:- The duration of each survey is mentioned before you start so that you can decide whether you wanna go for it or not and it also helps you select the ones with the time suitable to your available time.
2. Variety of ways to make money:- There are a lot of ways you can make money on Swagbucks unlike many other rewards and survey sites that are bound to one or two ways to earn money only. If you don't like surveys, you can go for games or other ways like trying out new apps, entering sweepstakes and watching videos etc.
3. Variety of redemption options:- One of the best things about Swagbucks is that it has a variety of options for you to redeem your points like Paypal cash, Gift cards of some of the major retailers like Amazon, Walmart, Target, Noble etc. The most famous ones are Paypal and Amazon but you can go for any other option as well and you can redeem for as little as $3.
4. Availability of a mobile app:- Some of you might not like using Swagbucks on your pc or you might be out of your home most of time and don't have access to your pc in your free time. Swagbucks has the solution for this. they have a mobile app which has same functionality like their website which is available for both iOs and Android.
Also read: Is Inbox Dollars legit? unbiased review 2020
Swagbucks complaints
As you can read the title of this article includes the words, "unbiased Swagbucks review" so not mentioning the complaints or issues with Swagbucks would be unjust.
Now the question, "Is Swagbucks legit?" often rises after people see a lot of complaints regarding this site on various review forums, but the fact is that complaints of a platform have very little to do with the legitimacy and authencity of a platform and more with the experiences of various users.
For example i may have a bad experience with Airbnb, but that does not mean that Airbnb is a bad or unsafe company.
Swagbucks is a legit and safe site but it does have a list of complaints.
By far i have seen these kinds of complaints from Swagbucks users,
1. The pay is less:- Yeah! That's true! Swagbucks pays less BUT so does all the other rewards sites out there.
Swagbucks is a source to make some extra cash in your spare time!
It's not a full time job! You can never make a living using Swagbucks.
I recommend you to only use Swagbucks when you are free and have nothing else to do.
2. Swagbucks is not available worldwide:- Unfortunately! Swagbucks is not available worldwide!
It is only available in the following countries,
USA
Canada
UK
Australia
Ireland
If you are located in any  other country, you can sign up for PaidViewPoint which is a legitimate survey site available worldwide.
3. Swagbucks not giving you the credit for your completed offer:- This one is a major problem!
Some people have reported that they didn't get paid after the completion of the offer they completed.
I can't say much about this and would regard it really unfortunate.
however i would personally recommend you guys not to go for offers.
4. Extremely slow customers service:- Another problem with Swagbucks is that it's customer support is really slow.
Whenever you submit a support ticket, you have to wait for a long time to get response.
This can be really annoying if you have very little time and you want instant help.
5. You get disqualified from most of the surveys attempts you make:- This one is one of the most common problems with Swagbucks, rather not only with swagbucks but most of the other survey sites as well.
And according to some sources, one of the major reason behind this is incomplete profiles.
If you don't fill out your profile well, you would be disqualified for most of the surveys you apply.
Who is Swagbucks best for?
1. Anyone who want to utilize his/her extra time for a little income – Swagbucks is a actually a source to make money in your free time, not a full time income opportunity! So it is best for those people who have some extra time daily and they want to utilize that time and make some money.
2. Anyone who does not have much time to start a side business – As i mentioned above that swagbucks is not a source of full time income so if you want to start a side business, don't go for Swagbucks, rather check out this post for online business ideas but if you have very little time and can't start a side business then Swagbucks is the way to go for you.
3. People who enjoy surveys – Some people enjoy to give their opinion about the products or services they use so if you are that person, then Swagbucks is a perfect option for you as it pays you for your opinion.
Who should avoid Swagbucks?
1. Anyone looking to get rich – Swagbucks is a rewards website that pays you some money for little tasks but if you are a person who wants to get rich, then you should go for some business, because Swagbucks is not going to make you rich. However, If you really willing to invest your time and efforts into starting a professional online business, then check out this post.
2. Anyone who finds surveys annoying – Some people don't like surveys at all!  If you are one of those people, you may not find Swagbucks much interesting!
3. Anyone who is looking for ways to make a full time living – You can not make a full time living from Swagbucks. You can only expect to make an extra 50-100 dollars a month. If you are looking to make a full time living, you can start blogging. Check out this step by step guide to blogging in which i explain all the stuff you need to start a profitable blog.
Also read: How to make money online as a teenager | 10 legitimate ways
Bottom Line on Swagbucks – Is Swagbucks legit and safe to try?
Regardless of the fact that Swagbucks has a lot complaints from it's users but it's still a great way to make some extra cash every month in your spare time.
How much of money you make truly relies on how you use Swagbucks. Don't think of it a primary source of income rather treat it as a way to monetize your free time!
I hope i have cleared all of your doubts regarding Swagbucks and now your question "Is Swagbucks safe" is answered.
Now if you want to join Swagbucks now, you can join by clicking on the following button.
Also check: I need money now – 31 ways to make money fast
Frequently Asked Questions (FAQs)
Is Swagbucks worth it?
Swagbucks is not worth you time if you really want to make some extra money every month. If you really want to start a profitable online business, find a niche and start a blog today! Here is my step by step guide to blogging.
Is Swagbucks safe?
Yes! Swagbucks is a safe company that does the business in the right way and pays it's users. Check out this review to learn more.
How much money can you make using Swagbucks?
You can not make a lot of money or a full time living using Swagbucks. Just expect to make a an extra 50-100 dollars a month.
Is Swagbucks a virus?
No! Swagbucks is not a virus! It is a legitimate and safe paid survey site that actually pays it's users for surveys and other offers.
Is Swagbucks real?
Yes! Swagbucks is real! It is a legitimate paid surveys and rewards site that has paid more than 150 million USD to its users to-date.
What is the minimum age to join Swagbucks?
The minimum age to join Swagbucks is 13 years.