Do you want to know how to make 300 dollars fast?
Making money isn't easy and making it fast is even challenging.
The question is, "How to win this challenge?"
One way is to get experienced. But one cannot be experienced, if it's just the beginning.
So, how can you do that if you're not experienced!
In this case, you must know the PROVEN WAYS to make money fast.
Another doubt which stops the new people is that they think it's not possible.
So, before doing anything, you must clear your any such doubts and be confident to start any method you like.
Today, I am going to share legit ways which can answer your question:
Disclaimer: $300 is not a small amount and in order to make it fast you have try at least more than one ways mentioned in this article.
How to make 300 dollars fast
1. Take surveys for cash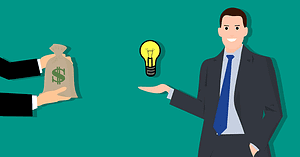 You know you can earn money by completing very easy tasks.
But you can not make 300 fast using this method!
Then why did i put this method in this list?
Because this is perhaps the easiest way you can make some cash without having to go anywhere or investing any money!
Just sign up to some sites mentioned below and whenever you feel like there is nothing else you can do and are you feeling bored! Just go and complete some surveys!
Don't try this method as a primary one, treat it as an extra method try when there is nothing else to do!
There are a lot of websites that pay you to perform small tasks such as completing surveys, watching videos, and playing online games.
These tasks are usually:
Watching Videos
Web Search
Exploring Content Online
Shopping
Paid Surveys
etc
Why they pay you for such things!
It's because they get money for doing this.
A lot of companies need their customer's opinions to improve their product or the services they provide. To do so, these companies link to different websites that have a good number of visitors. The visitors then perform the small tasks offered by these websites to get rewarded.
I'd simply recommend you guys to keep this method for your extra snacks.
Following are only survey/rewards sites i recommend,
Swagbucks (Join now)
Survey Junkie (Join now)
Lifepoints (Join now)
Vindale Research (Join now)
Pinecone Research
E-Poll
These websites reward you in different ways. On some, you may win gift cards or steam codes while on others you'll get points or dollars.
If you like playing video games on steam and looking forward to buying some, you can redeem your funds from these websites into your steam wallet.
2. Open New Checking Account or Earn Cashback Through Credit Card
This is one of the quickest ways to earn up to $500.
You can earn $200 by opening a checking account with Chase.
Make another account and boom! You got your $400 which is $100 more than our target.
Not Bad, Right!
Making more than one account may sound weird, but it isn't.
Let's say if you're having trouble managing your finance, having multiple accounts can be handy.
Most of my friends usually have three accounts. They keep one for their salary, another for savings while third for managing funds under the head of the emergency.
This way, you can even plan more than three accounts.
Although we've already crossed our benchmark of $300, this method can get you even richer.
So, let's discuss the role of CREDIT CARDs to earn money.
Let's say you're up for buying a lot, soon. By this, I mean within a couple of weeks or so.
You should look into credits cards that offer a signup bonus.
This is how it works. Normally different credit cards offer rewards in the form of bonus points. These bonus points equal to considerable money.
If you'll take an example of Chase Sapphire Preferred Card, it will give you 50000 reward points if you spend $4000 within three months.
These 50000 points -when converted into money- have a monitory value of about $650.
Once again, you can make way more than your target if you use this method.
The major take here is, you have to make confirmed purchasing of value $4000.
Also read: 12 legitimate ways to make 400 dollars fast
3. Sell Your Stuff Online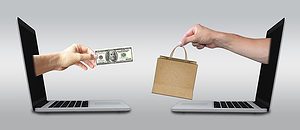 I was not sure either adding this heading would be useful or not, unless I checked the value of the method.
It's as easy as it sounds and makes a lot more than our expectations.
You can even consider it a bit underrated method to earn $300 fast.
Well! let's explore what's inside.
When it's about selling online you can sell almost anything. I am gonna share some useful ways about what and where to sell.
Sell your random stuff on Facebook Marketplace or Craigslist:
Selling your random stuff works like a charm.
HOW?
Let me tell you.
A lot of people who shop online don't want to spend huge money if they want to buy designer clothes. They prefer spending way less.
So, if you'll be displaying your Old Clothes specifically for sale on either Facebook Marketplace or Craigslist, you can earn good money very quickly.
What else you can sell this way?
To know the answer, you can simply explore the online market places and check which item categories are on sale.
Simply match and pick your stuff and put that online.
Also read: 19 realistic ways to make 200 dollars fast
Sell Your Photos:
Selling photos is real and pays as well.
Lol, I don't know why some people think that photos can't be sold. Instead, people are selling photography as a skill.
One example site through which you can sell photos online is Shutterstock.
This website gives you royalty and you can earn hundreds of dollars every month.
PRO TIP: Try selling unique and high demanding photos. Normally, photos of objects and places sell quickly.
Sell Your Gift Cards:
People are so lazy to make good use of their gift cards. You might also be the one having a whole pile of gift cards of place you'd never visit.
What's better than converting those cards into cash.
That's exactly what I do.
But the question is!
How to sell your gift cards to make money?
Check out Cardpool to know the answer.
This website gives cold hard cash in return for your gift cards. You can get as much as 92% value of your sold cards.
Also read: 15 legitimate ways to make 10 dollars fast
Sell Your Junk:
A method which may sound a bit outdated is selling your junk in your yard.
Not only you can get rid of your junk but also you can make quick money.
A better way is to collaborate with your neighbors and start a big sell in the whole block.
Let's get to know our next method.
4. Rent Your Asset to Make Quick Money
You don't wanna sell?
It's OK.
Let's rent it.
Renting an asset is one of my personal favorites.  It's, in fact, the money which we're losing just for nothing.
There are multiple options when you decide to rent.
It can either be your extra room or your car.
In case of extra room, you might even make up to $1000 a month. That's serious and once again its more than our target money.
More in this way, if you don't use your car often and it stays in your garage while piling up dust, it's better to rent it just like your extra room.
You can do that by using the TURO app.
This app allows users to set their renting fees manually as well along with the in-app feature of auto pricing.
TURO does that by comparing your car with others and normally checking different parameters such as location and time of year etc.
I normally use this app during vacations.
Another part of this section involves displaying ads on your car.
It's super easy as you just need to put a decal on the rear window of your car. Its simply as the ads, you might have seen on the side of the bus.
All in All, "renting your asset" can be very fruitful.
Also read: 20 authentic ways to make 20 dollars fast
5. Get Paid By Shopping: Direct Cashback and Uploading Store Receipts
I kinda enjoy shopping for groceries and other stuff from the superstore. But when it's payment time, it feels heavy on the pocket.
You may also feel the same and a little helpless; as no shopping without money.
But when I started shopping online, I get to know about cashback up to 12%. This was pretty tempting.
So, I explored several options online to earn money by shopping.
Some of these are super easy.
Let's look into how I did that.
Also read: 30 legitimate ways to make money fast in 2020
Upload Store Receipts to Get Cashback:
One of the cases can be that you've purchased your stuff from a nearby store and you didn't know any offer about the cashback.
You can install an app called Ibotta, upload a picture of your purchase receipt, and win cashback on certain items.
This app offers cashback on selected items. If you have purchased any of the items within Ibotta's list, you can make quick money.
One thing to take care of is, "don't waste your store receipts."
You need a picture of these to claim your reward through Ibotta.
Apart from cashback, this app gives you $20 when you sign up.
Also read: Is Rakuten legit? Review 2020
Auto Cashback from Online Retailers:
Here you don't need to save store recipes.
Instead, some apps do the job for you.
For example, Rakuten and Honey.
Rakuten is a browser add-on that looks for all the promo codes available for multiple online retailers.
When you shop from any of these retailers, Rakuten takes care of possible moneyback through the best promo codes before your checkout.
It saves you from all the effort to manually look for coupon codes etc.
Not to forget, it also gives $10 when you register as a new user.
So, hurry up.
Grab your pending cashback
How'd you feel if you come to know that someone owes you cashback, even after some days have passed since you purchased your stuff?
Yeah! It can be very exciting.
Paribus brings you this happiness.
This app keeps an eye on recent price drops and helps you get cashback in case you've just purchased anything on OLD price.
This is how it works:
Paribus looks into your email and catches all the receipts of the purchases you've just made.
It then checks if there were any price drops within the last 7 to 15 days on any of your purchased items. After that, it claims your total cashback from the store.
I like it as it works on AMAZON as well.
6. Write To Earn Quickly

Your ability to write well can help you earn a lot more than just $300.
To my luck, I was able to get a kick start in content writing and my first client offered me $350. I did the job within a couple of weeks.
That's was quick and I loved it.
But there is a twist!
I didn't make a penny from writing in my first year.
REASON?
I started with blog writing and wasn't looking forward to earning from this skill; as a freelance writer.
Later, I learned about monetizing my blog and marketing my writing services and Boom! The cash got rolling in quickly.
There are multiple options when you'll be up for writing to earn money.
Let's explore these a bit more:
Write as a Freelance Writer:
Some people don't consider writing a particular skill.
But:
If you consider writing a skillset, you can earn quickly through freelancing.
Join Fiverr, Upwork, or any other freelancing website and you can land clients related to writing.
Once you've established some authority, your profile will gain a better rating.
You'll start getting more jobs quickly and earning dollars at a fast pace.
You can even get writing-related clients from social media websites such as Facebook and LinkedIn etc.
Simply join relevant groups, start interacting with the community, and start pitching your services.
Better interaction and engagement in these communities can get you leads without any special efforts.
By far, the experts rate LinkedIn as an extremely useful platform to land writing jobs. They even say that "LinkedIn is better than other freelance websites such as Fiverr and Freelancer etc."
Writer for Content Mines:
Just like Fiverr and Upwork etc, there are freelance category websites dedicated to content writers.
These websites work on a little different pattern as compared to general freelancing websites.
Content Mines have certain criteria to accept writers. If you fulfill those criteria, you can get registered and start earning.
These websites generally offer better rates than normal freelancing websites.
Upside: You can earn a lot from content mines.
The downside of this method: Content mines normally accept experienced writers and work is not continuous.
Listverse is an example of a famous content mine. It accepts writers who can write engaging content in the category of listicles.
If you think you can write a lot of content that involves lists, join Listverse, or any other same category websites.
Write For Your Blog
Blogging demands patience and hard work.
But, once you've developed some authority and enabled monetization, you can earn quickly.
There are multiple ways you can earn through your blog.
Most common include:
Monetize blog for ads
Earn commission through affiliate programs
Offer services through blog
I've been writing for different blogs have earned a handsome amount from the above three methods.
One of my blogs is focused on branding. It brings me, writing-related clients, even though I am not yet offering any services from that blog.
Expert bloggers say that your blog can help you land your highest paying clients.
Let's get to next method in our list:
7. Teach Online to Earn Quickly
If you're a native English speaker and fluent speaker, you can easily earn up to $20 an hour by teaching English to kids.
Do some quick math and dah! You only need around 15 hours to get to $300.
Even if you teach for an hour a day, it will not take more than 15 days to reach your target.
Multiple websites offer such opportunities.
Some examples:
VIPKID
HAWO American Academy
One online class is normally around 25 to 30 minutes and it pays you $10. That's quite a fun way and I've done that while traveling.
Normally on VIPKID, you'll find Chinese kids to teach.
This website has some criteria to fulfill before you start teaching. To be a teacher on that platform, it will ask you to complete the following requirements.
US or Canada Residency
Fluency in English
Bachelor's Degree
A year-long experience of teaching
Let's move ahead:
8. Find and Claim Your Free Money
I didn't know how much I was losing until I discovered this method.
Yeah!
There was money on my name in different places and I didn't know anything about that.
So, to do my quick $300 challenge, I explored the internet, found some ways, tested, and made the money.
Let's explore what these ways are:
Get Your Money From The State:
What if I tell you that there are billion dollars -in your state or federal government accounts- which are unclaimed.
These funds can have your share in them.
The question is:
Where that money comes from and how can you get it?
Well, it comes from:
Bank failures
Unclaimed deposits
Back wages
Unclaimed pensions
Tax refunds
All this money is yours and others like you.
To get this, you can find your name in Unclaimed.org
Just go to the website and search by your name in all the states you've lived in. Within a few minutes, you'll find all the checks on your name. Follow the process on the website to cash out and you'll be good to go.
Claim your money from your Ex-Employer:
If an employer breaks any labor law, it gets a penalty on its name.
The department of labor hops in to recover unpaid money by such employers. You can check the database if your name's in it and get your money.
Cut off your unwanted Subscriptions:
Just like a lot of people on the internet, I was subscribing to everything I came across while looking to make money.
I did that and I didn't know which subscription was useful and which was a complete waste.
Many of those were paid ones.
After a couple of years, I forgot about most of those paid subscriptions.
Then I found TRIM.
TRIM is somewhat similar to Paribus.
It's an app that scans for all of your active subscriptions. You just need to check the list and see if any of your money is being consumed by useless subscriptions.
Use TRIM to unsubscribe immediately and you might see considerable monthly savings.
Wrapping it up…!
So, these were the methods you can try to make 300 dollars fast. You can add these in your action plan, test the ways and hopefully make some quick cash and even start a long term business using some ways like Freelance writing, renting your car and teaching online.
Either go for one way or multiple ways at one time to make your first $300. You can make more than that through some of the ways on our list.
Good luck and must share if you know other cool ways to make money fast.
Frequently Asked Questions (FAQs)
How to make 300 dollars in a day?
You can make 300 dollars in a day by selling your own products online, reselling/flipping stuff like furniture, running a fast food stall or lemon soda stall in a busy place, dropshipping, and many other ways. Check out this article for more info.
How to make 300 dollars fast as a kid?
You can make 300 dollars fast as a kid by selling hot chocolate in winters and lemon soda in summers, flipping stuff by buying old items, refurubishing them and resell them at a higher price, sell old/unused stuff at your home and by selling candies in school.
How to make 300 dollars fast online?
You can make 300 dollars fast online through blogging, dropshipping, affiliate marketing, selling your own products, selling your services, doing consultancy, and making YouTube videos etc.