Is it really possible to find legitimate apps that pay you free money?
In my experience, the answer is YES!
Of course, you won't become a millionaire overnight making money online. But there are a ton of opportunities to make money online instantly if you're willing to invest a little time.
My Top Picks to Make Quick Money Online
Short on time and need some actionable advice? Here are my 5 favorite ways to make money in seconds – quickly and easily (and absolutely free to you).
Some of them make money just by signing up!
You won't replace your income any time soon, but you can certainly make a few hundred dollars extra spending money.
If you sign up for all of these, you'll get $20 instantly and can make $100 or more a month if you have a few hours a week to spend.
These are my favorite money making apps to get started with right now:
Survey Junkie (150 point sign up bonus) – Take surveys, get paid. The simplest and most well-rounded survey app I've found.
Swagbucks ($5 sign up bonus) – Make money taking surveys, watching videos, and more.
Inbox Dollars ($5 sign up bonus) – Earn instant cash playing games online, take surveys, and more.
Groundfloor ($10 sign up bonus) – Invest $10 or more with Groundfloor and get a $10 bonus.
Bingo Cash [fun]: Free to download fast-paced bingo game with real life cash prizes – learn more about Bingo Cash here.
Make Instant Money with Online Surveys
Taking surveys is not my personal favorite way to make money, but my wife loves them.
I think they work best if you have some down time during the day (waiting in line at the store, watching TV, etc.) where you can pull out your phone and make a few bucks a day.
The secret (if there is a secret) to survey apps is to sign up for several different ones so you have a steady flow of surveys available. Some will pay better than others, so be sure to prioritize the good ones.
1. Survey Junkie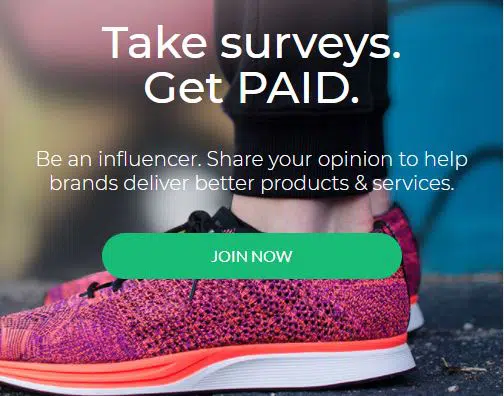 Survey Junkie is one of the best and highest paying survey sites. When you sign up and fill out your profile, it will match you with surveys based on your interests.
Brands are always looking for consumer opinions about new products, and you can earn money by offering your opinion.
One of the things I like about Survey Junkie is that even if you don't qualify for a survey, you can still earn a few points for trying (many others don't offer this).
2. Swagbucks
If you're looking for more than just surveys, Swagbucks is a great way to make money online for free.
With Swagbucks, you have multiple ways to earn rewards, such as:
watching videos
answering surveys
shopping online
playing games
searching the web
You can trade in the points you earn for cash through Paypal or Amazon gift cards.
Swagbucks has paid out over $500 million since it was founded, so you know it's legit.
Plus, if you sign up today, Swagbucks is offering a $5 bonus just for downloading the app – that's free money!
Join Swagbucks Now! ($5 bonus)
3. Inbox Dollars
Inbox Dollars is another app that has paid out millions of dollars to its members so far.
Similar to Swagbucks, you can earn points in many different ways, including taking surveys, watching videos, playing games, or even reading emails.
With lots of possibilities for earning points, you can cash them in quicker too.
Plus right now Inbox Dollars is giving an INSTANT $5 bonus just for signing up!
Join Inbox Dollars Now! ($5 bonus)
4. MyPoints
Similar to some of the other "get-paid-to" apps above, MyPoints gives you instant money free on Paypal when you shop online, take surveys, play games, and more.
So why have multiple similar apps to make money online? Good question.
Most apps have daily limits to how much you can earn, or a limited number of surveys available to take. By signing up for multiple apps, you can earn even more (and also get the free money from sign-up bonuses!)
Join MyPoints today and get a $5 gift card absolutely free!
How to Make Instant Money Online Through Investing

If you have some money in savings you want to put to work (as little as $10), here are some great ways to make instant passive income online.
5. Groundfloor
Groundfloor allows you to start investing in real estate with as little as $10.
Groundfloor lends money to other real estate investors who are buying, fixing up, and flipping properties. The platform allows you to "be the bank" and fund those loans.
One of the things I like is that you can diversify across many different loans by putting a little into each one.
Check out more details and my own personal rate of return in Groundfloor here.
Deposit $10 in your Groundfloor account today and get a free $10 matching bonus!
Join Groundfloor Now ($10 bonus)
6. Fundrise
Similar to Groundfloor, Fundrise allows you to invest in real estate without having to have a ton of cash. They recently lowered their minimum investment from $500 to just $10.
With Fundrise, you invest in a fund (called an e-REIT) that owns multiple commercial real estate properties, from multifamily apartments, to offices and industrial buildings.
I also personally invest with Fundrise, and have made over 10% returns per year so far (see the details here).
7. Acorns
Acorns is one of the original fintech apps that makes it easy to put your savings on autopilot.
You can choose to "round up" each purchase you make and send the spare change to your Acorns savings account. For example, if your coffee cost $3.25, Acorns would round up the purchase to $4.00 and put the extra $0.75 in savings.
While it's technically not free money, it is a great psychological hack to save money instantly without even noticing.

Make Free Money Online with Cash Back Rewards
8. Rakuten
Rakuten (formerly known as E-Bates) is a stand out in the cash back app space. It gives you 1-40% cash back for your online shopping just by clicking a button.
I personally have the Rakuten Chrome Extension installed, and it alerts me when I am shopping on a site that offers a discount through Rakuten.
For example, we recently bought a rug from Overstock.com and Rakuten reminded me I could get 2% back on the purchase. Over the past few years I've earned $1,069.14 through Rakuten. This is truly free money instantly, because I don't have to do anything to get it except click a button!
9. Drop
Drop is another cash back app that lets you make money instantly through online or in-store purchases.
All you have to do is link your credit card to start earning points with purchases at selected stores. There are also rotating bonuses to earn even more. As of this writing, shopping at Wal-Mart will earn you 100 points per $1 spent (a 5X boost on the normal cash back).
10. Dosh
Dosh is similar to Drop, except it's more geared toward local businesses.
Simply link your credit card and get cash back – no receipt scanning or coupons required.
Some recent offers I've used include:
5% cash back on Lyft
$5.50 cash back on DoorDash
2% cash back on Overstock.com
and much more
11. Fetch
Fetch is my favorite cash back receipt-scanning app. You can make money instantly just by taking a picture of your store receipt.
All you need to do is snap a picture of your receipt and Fetch will find any related cash back offers to the products on your receipt. Plus you get bonus points for scanning any receipt whether there is a product offer or not.
You can also automatically scan receipts from your email (such as Amazon, Home Depot,etc.) for even more cash back.
12. Ibotta
Ibotta is another receipt-scanning cash back app that lets you earn cash back right from your phone.
It allows you to select digital coupons to apply to your order and get cash back when you buy certain products. One of my favorite features is you can get cash back on buying any brand of grocery staples such as eggs, milk, or meat. And you can also get cash back just for scanning any receipt!
13. Credit Card Rewards
Credit card rewards are a great way to earn instant cash with literally zero effort. With the right credit cards, you can get 1-2% cash back, and even earn sign up bonuses of $500 or more.
My family makes over $2,000 per year with credit card rewards, and we haven't paid for plane tickets in over 5 years!
For beginners, my favorite card to get started is the Chase Sapphire Preferred.
14. GetUpside
GetUpside allows you to earn free cash back on gas receipts, restaurants, and more.
Per the app, you can save up to 25 cents per gallon on gasoline with no effort on your part.
Make Instant Money Online Playing Games
15. Lucktastic
Lucktastic is a free app that lets you earn free cash and prizes by playing games and scratch off tickets.
While it's not a consistent way to make money like survey apps or cash back apps, it's fun and gives you a small chance of "hitting it big" and earning $10,000 or more instantly.
16. Mistplay
Mistplay is another app that pays you to play games.
Currently only available to Android users, you can download different games and earn free money just for trying out new games.
Sell Your Stuff Online to Make Money Fast
Make instant money online absolutely free by selling your stuff you no longer need. You'd be surprised how much you have lying around that can be converted to cash!
17. Decluttr
Decluttr is a hassle-free way to sell your used electronics such as cell phones, video games, DVDs, and CDs.
Here's how it works:
Get a free evaluation of your item
Print out a shipping label and pack it in a box
Send your item to Decluttr (free shipping!)
Get paid the next day
While there are other ways to sell your used electronics (like eBay or Facebook Marketplace), Decluttr is by far the easiest and takes out the guesswork.
18. Poshmark
Got a closet full of clothes you no longer wear? Poshmark specializes in helping you sell your gently used clothing for top dollar with their app.
Snap a photo, upload it to the Poshmark app, and list it. Like Decluttr, Poshmark makes it easy by providing a free shipping label.
19. Sell Gift Cards Online
There are numerous sites online that allow you to trade your gift cards for instant cash such as Raise and CardCash.
If you're anything like me, you have a box full of gift cards that you always meant to use but never did. Instead of letting them collect dust, trading them in for free cash is a great way to make some quick money.
Make Money Online With Side Hustles
While side hustles won't make you "instant" money, you can build a passive online business that lets you earn money while you sleep.
20. Affiliate Marketing
With affiliate marketing, you promote a product or service and get paid when someone signs up.
While blogging is a great way to promote affiliates related to your content, all you really need is an audience, whether that is on Instagram, Facebook, or email.
Some of my favorite affiliates (that are even promoted in this article) are apps that are free to sign up for, help the user make extra money, and make me a little money in the process as well.
21. Online Lead Generation
I recently dove into the world of online lead generation and found that once you set it up, it can create a steady stream of online income with minimal effort.
This side hustle does take some marketing skills, either with Facebook and Google Ads, or SEO, or both. If you have the skills or the willingness to learn, generating leads for small businesses such as HVAC repair, pest control, or tree trimming, can be a lucrative and rewarding business.
22. Freelance Writing
While not instant money, as a freelance writer, you can set when you work and how much and get paid quickly for writing blog posts, magazine articles, and more.
Freelance writing can pay well, especially if you have experience in a particular niche. In my experience, personal finance freelance writers can earn 10-25 cents per word or more ($100-250 for a 1,000 word article).
23. Virtual Bookkeeper
Do you like numbers and helping other business owners grow their business? Then virtual bookkeeping may be a fit for you.
I know several people that have grown their bookkeeping side hustle into a six figure business – all online.
For more detail, check out my interview with a former teacher who started a bookkeeping side hustle making $75 per hour.
24. YouTube Channel
How can you make money online with a YouTube channel, you ask? Just like with other "influencer" platforms, you can build an audience and earn ad revenue for every video view.
A YouTube channel (or TikTok account) can be a good complement to a blog or social media profile. If you have a certain skill to teach other people, such as woodworking, internet marketing, or even raising kids, you can create videos that others will find useful and earn money in the process.
Other Apps to Make Fast Cash Online
Here are a few more apps that allow you to make instant money online absolutely free, but don't necessarily fit into the categories above.
25. Trim
Trim is a great app to help you save money on your recurring monthly bills. Trim does the negotiating for you to lower your cable bill, cell phone bill, and more.
While you aren't technically making money, saving $50, $100, or more every month is just as good!
26. Paribus
Paribus is a free service that alerts you when products you have bought online have had a price drop. With a few keystrokes, you can get money back on your purchases with little effort.
I've used Paribus quite a bit to get money back on my Amazon purchases – it even lets you know when a package arrives late and Amazon will give you a credit for your trouble.
27. HealthyWage
Want to make money and get in shape at the same time? Healthywage allows you to earn prize money for hitting a weight goal in a specified period of time.
The top prize is $10,000, but payouts can differ depending on your current weight and your goals. They have an online calculator to determine your prize amount.
28. Sweatcoin
Sweatcoin uses your smart phone to track your steps and pay you for walking.
While it won't make you a millionaire, it is legitimately free money and the more you walk the more you earn.
29. Amazon Mechanical Turk
I must confess I hadn't heard of Mechanical Turk until I interviewed a friend about how he made $1,000 per year with survey and micro-task apps.
Amazon Mechanical Turk lets you perform very small tasks (some as little as 10 seconds) and make a little bit of money. If you are able to do a lot of these small tasks in your free time, you can piece together a decent amount of money.
Wrapping Up: How to Make Instant Money Online Absolutely Free
While there's no such thing as a free lunch, some of these opportunities to make free money come pretty close.
Hopefully you were able to come up with a few ideas from this article you'd never heard before. If you're looking for a way to make extra money, I encourage you to give one or two of them a try.
---
LOOKING FOR MORE WAYS TO MAKE EXTRA MONEY?

I've got you covered! Check out these other incredible ideas to make money on the side.
47 Genius Ideas to Make $1,000 a Month (Side hustle and passive income ideas to make extra income every month)
20+ Under the Table Jobs That Pay Cash Now (My favorite side hustles that pay quick cash)
3 Apps That Pay Me $500 for Doing Nothing (The best cash back apps I use regularly)
The Only 2 Survey Sites You Need to Make Extra Money (How to maximize your income when taking online surveys)
20 Ways to Make $20 Fast (Great for making quick cash)
Andrew Herrig is a finance expert and money nerd and the founder of Wealthy Nickel, where he writes about personal finance, side hustles, and entrepreneurship. As an avid real estate investor and owner of multiple businesses, he has a passion for helping others build wealth and shares his own family's journey on his blog.
Andrew holds a Masters of Science in Economics from the University of Texas at Dallas and a Bachelors of Science in Electrical Engineering from Texas A&M University. He has worked as a financial analyst and accountant in many aspects of the financial world.
Andrew's expert financial advice has been featured on CNBC, Entrepreneur, Fox News, GOBankingRates, MSN, and more.