Are you looking for the best online jobs for college students at home?
You're welcome!
More and more people are shifting towards online jobs due to their flexibility of working from home and no requirement for any college degree.
However you need to be very much careful while opting for any online job as there are a lot scams in the market.
I personally researched as many online job opportunities as I could and have finally come up with a list of 20 online jobs for college students that are totally legitimate and accept teens under 18 years of age.
Each job opportunity mentioned in this article has its own earning potential and mostly it depends upon you that how much efforts you put in and how you seriously you commit yourself towards a particular job.
Online jobs for college students with no experience
1. Content writing jobs for college students
Freelance writing is the one of the best online job for teenagers who really want to make money but don't have money to invest.
If you think you can write well without any grammatical mistakes and you have the ability to write catchy and engaging sentences, wait no more and start your freelance writing journey today.
There are a lot of companies out there who are willing to pay freelance writers a decent amount of money because they know the value of quality content for their business.
The best way to start your freelance writing career is to first chose your writing niche, then start a free blog and write some quality articles to make a small portfolio and lastly start approaching companies/websites in your niche to offer them your services.
The other way is to join freelance writing job boards and start applying for your niche related writing jobs posted over there.
Five best job boards for freelance writers are,
1. Problogger job board
2. Blogging pro job board
3. Freelance writing job board
4. Contenna (paid)
5. Flexjobs (paid)
Here is a video on how to land your first Freelance writing client by Ryan Robinson (a well known blogger),
Also read: Online jobs for teens in 2020 [10 legitimate ways]
2. Graphics design jobs for college students
Graphics designing is another skill that is really hot and is not going to get slower anytime soon.
Almost every company needs eye catching graphics to attract and retain buyers so they are always in need of skilled graphics designers.
Graphics designing is not one skill rather it is a combination of a lot of mini-skills like photo editing, brochures and flyers designing, ebook cover designing, logo designing, video editing and much more.
If you want to learn Graphics desgining, you can start by signing up for a free trial on Skillshare.
Here is a course on Skillshare which can really help you build your base and strengthen it.
Here are some Job boards you can join to start applying for graphics design jobs,
1. Flexoffers
2. Design Jobs board
3. Authentic jobs
And here are some freelance sites you can join,
1. Upwork
2. Fiverr
3. 99Designs
4. PeoplePerHour
5. Freelancer.com
Also read: How to make money in high school [14 legitimate ways]
3. Transciption jobs
Transcription is also a great addition to online jobs for college students. If you are a native English speaker and you can easily convert an audio or video into written form, you can really make money doing so.
There are a lot of transcription websites that you can join for transcription jobs.
Some of the best transcription sites out there are,
Rev is most professional transcription company out there that provide transcription services and hire transcriptionists for this job. They $4 to $12 per hour.
In order to join them, you have to pass a transcription test and if you fail that test, you have to wait for the next 45 days to apply again.
They pay through Paypal and pay once in a week.
Transcribeme has also a good name in the Transcription market.
They also have a test which you have to pass to get started with them.
They pay about 20 dollars per hour of transcribed audio and pay through Paypal.
Also read: Online Proofreading Jobs (36 websites to join in 2021)
Scribie is a great transcription site for beginners as their approval is easier than other other transcription sites but their rate is also lesser.
Related:
1. 15 legitimate ways to make money as a kid
2. 8 Best Online Tutoring job websites
4. Website testing jobs
Big brands and companies are very much concerned about their websites since a major portion of their business runs through them.
To ensure their visitors are having a great time on their websites, they hire user testing companies to get their websites tested by real people from different parts of the world mainly USA, Canada, UK and Australia.
Usertesting is one such website that takes orders from websites' owners and hire testers for testing purpose.
Companies like Usertesting allows you sign up as a user tester and get paid per test you undertake.
All you have to do is to sign up on Usertesting as a tester and start testing websites.
Normally a test lasts for about 20 minutes and for each test you are paid $10.
Usertesting requires their users to be atleast 18 to join them, however there is another testing company called Userlytics that accepts 16 year olds and above.
Also read: Under the table jobs (10 options to go for in 2020)
5. Web development jobs


Web development is one of the highly paid freelance professions in the market with a vast scope.
Nowadays every second business needs a website and they are ready to pay big bucks for that.
Unfortunately this profession is not for everyone because you have to deal with code and not everybody loves coding. (i know it!)
IF you think you can learn coding and would not leave it midway, great! You can start from basics today through youtube, Udacity, Treehouse and Lynda etc.
After gaining a strong grip on your services, join freelance websites like Upwork, Freelancer.com and Fiverr, join job boards to look for latest web development job postings and start reaching out to different companies and local businesses in your area who don't have a website for their business.
Just to give you an idea, beginner freelance developers charge $30 per hour whereas experienced ones charge upto $150 an hour.
Also read: How to make money without a job [19+ legitimate ways]
6. Virtual Assistant jobs
A virtual assistant is a person who handles different kind of tasks for clients while working remotely from the comfort of his living room.
These tasks include data entry, administrative tasks, content writing, wordpress publishing, database creation, email management, social media management and many others.
The best way to start virtual assistance is by choosing one task (e.g content writing), mastering it, making a portfolio website and then pitching clients directly or approaching them via freelance websites.
Some of the best freelance websites to find virtual assistance gigs are Upwork, Peopleperhour, Craiglist and Fiverr etc.
Also read: Best Paid focus groups (10 best options to go for in 2020)
7. Social media management jobs
Social media management includes managing the social media pages for companies or individuals i.e. posting photos and videos, running contests, running paid ads and replying to business enquiries.
Social media is growing exponentially and nowadays almost every brand uses social media for their business.
Most of these businesses don't have enough time to manage their social media pages themselves because of busy routine. Here I am especially referring to local businesses in your area.
Local businesses are mostly unaware about the power of social media and the impact it can create for their businesses, so most of them don't have social media presence and even if they have, they just have a facebook page with no post for the past couple of months.
Look around you for local businesses in your area and check how many of them are not leveraging social media for their business. If you find any of them, just shoot them an email and offer them your social media management services.
Another way to get social media management jobs is through following job boards,
or you can try these feelance sites,
1. Upwork
2. PeoplePerHour
3. Fiverr
Also read: How to make 1000 dollars fast [12 legitimate ways]
8. Blogging
Blogging has proven to be one most profitable online job over the years due to its potential to be scaled.
It has transformed the lives of millions of people around the world and is continuously changing many more.
WordPress has made it very much easier for anyone residing in any corner of the world to start his/her own blog in under 20 minutes.
There are four primary ways you can make money with a blog,
Display advertising
In display advertising you make money when people visit your blog and/or click the ads being displayed on your blog. The biggest display advertising network is Google Adsense that is used by the majority of bloggers out there.
Affiliate marketing
In affiliate marketing, you promote the products or services of any company and get commission per sale or lead generated.
Sponsored posts
When you blog grows big, you can make money on your blog through sponsored posts. These posts are actually written for some company's product or service. Either some company approaches you themselves or you join sponsored networks where you can connect with brands who pay you write posts about their products or services.
Selling your own digital or physical products
Once you blog grows and you start to build audience, you can build trust and sell them your digital products in the form of e books/courses or physical products that your audience really needs.
Also read: 5 companies that pay you to advertise on your car
9. Affiliate marketing
Affiliate marketing involves marketing or promoting the products or services of a company and getting commission per sale or lead.
I believe it is the most profitable way to start an online business and definitely a great addition to online jobs for college students.
Also read: How to make money online for free(11 legit options to join in 2021)
How to start affiliate marketing?
#First step – Choose your niche market which you would be targetting like travel, fitness, personal finance, home improvement or relationship.
Hint: Most of the affiliate money is in finance, health, and relationship niches because spend a lot of money on them but that doesn't mean there is no money in other niches.
#Second step – Select your affiliate network you would be working with. Affiliate network is the middle person that connects companies (aka advertisers) willing to sell their product/service with publishers willing to promote the products or services of these advertisers and earn commisssion.
While there are a lot of affiliate networks out there i recommend you to stick with those that have a good name in the industry like Clickbank, Shareasale, Commission Junction, Flexoffers and Ratuken marketing etc.
And one more thing not all the companies host their affiliate program through the above mentioned networks, some of them host it themselves e.g Amazon, eBay, and many web hosts like Siteground.
#Third step – Choose the traffic source you would use to promote the products.
While there are a lot of traffic sources out there but majority lie in the following two domains.
1. Search engines (organic way + paid ads)
For organic way, you need to make a blog/website, create content, rank it on Google and then promote the products to your audience. This is an amazing passive way to make money but requires a lot of work upfront.
For paid ads, you have to make a blog/website or just create a landing page through any landing page software like Clickfunnels or Leadpages. After setting up the blog or landing page you have to setup advertsing campaign and start getting traffic from day 1. While this is a great way to start getting traffic from day one, you can loose your money in ads if you don't really know how they actually work.
2. Social networks (organic reach + paid ads)
For organic reach, you have to make your niche related page and start posting stuff from day 1 to build up audience and then once you have built a decent niche relevant audience, you can start promoting the products. you can directly promote the products on social media or first make a landing page, driving your followers to your landing page and then offering them the product.
For paid ads, you have to run ad campaigns to drive traffic to your page or directly to your landing page and convert them into buyers.
If you really interested to start affiliate marketing, check out this step by step guide.
Also read: How to make 200 dollars fast [18+ legitimate ways]
10. Youtube
YouTube is getting big day by day and it has already become a source of income for million of YouTubers around the world.
If you don't know this thing, make this stick to your minds that you can actually make a full time living through YouTube.
You can make a channel about anything you love and start making videos from today. People love videos and they prefer them over any other source of content in many niches.
If you can face the camera, that's great but even if you can't face it you can still make youtube channel and take it to the next level.
Alright lets discuss some channel ideas,
Youtube channel ideas (if you can face the camera)
1. Vlogging
Vlogging is the first channel idea that comes to your mind if you can face the camera. The key to becoming a successful vlogger is to improve your storytelling skills, portraying a boring thing in an interesting way, staying consistent and network with other vloggers in your area.
Examples: Caiesi Neistat, Tanner Fox, Roman Atwood etc.
2. Gadgets unboxing and reviewing
This is another great idea to start a channel showing your face, although some do it without showing their face but i think showing your face while giving review is better.
Examples: Ryan Toys Review, Unbox therapy, Dope or Nope
3. Reaction channel
Perhaps one of the easiest way to start your youtube career is to start a rection channel. A reaction channel is the one on which you make videos while reacting to another video. For example check the below screenshot,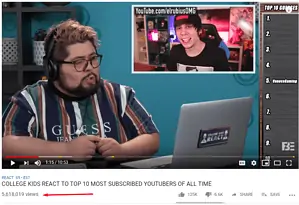 In the above screenshot you can see a guy reacting to another video, you would be doing the same thing and then giving your comments about the video.
Examples: Reaction time, BucketHeadNation and Average American
Also read: How to make 10000 dollars a month [10 legitimate ways]
11. Do Data Entry for companies
Data entry is a tiring and most of the times a boring task but still it has a lot of jobs in the online market as more and more and more companies are establishing every second day and they want data entry operators for a lot tiring and time consuming taks like databse management, email management, excel files modification and much more.
We added Data entry into the list of online jobs for college students just because there are a lot jobs related to Data entry on Freelance sites and job boards.
You can join Fiverr to start your job as a data entry operator.
Also read: Work From Home Jobs for moms (17 legit options in 2021)
12. Start dropshipping business
Ever heard of it?
Probably not!
Well dropshipping involves buying a product from Aliexpress or Alibaba at a cheap price and selling it in USA or any other country at a higher rate through eBay, Amazon or your own store through Shopify. That's the whole concept but there is a twist!
You don't have to personally buy the product from China and ship it to USA (if you you are selling in USA).
The whole process is automated. If you are selling it on your own store made through Shopify you can virtually import the products you want to sell from Aliexpress or Alibaba on your own store through an app called Oberlo.
After importing the products on your store, you can promote the products through Facebook ads or Google shopping ads and when someone would buy the product on your store, you would order the same product on Aliexpress and get it shipped to your buyer. That's it!
If you are still not sure about the whole process, check out this video,
Hope it clears your doubts.
Also Read: 20 ways to make 100 dollars a day in 2021
13. Edit videos online
Video is growing at a damn crazy pace and every business is looking for video marketing to grow their business.
If you are good at video editing that's awesome but if you are not and want to learn the art of video editing check out this course on Skillshare.
Now once you have gained enough gained knowledge about video editing, start looking for your skills related jobs on Simply Hired, Creative Cow Job Search, or Stage 32.
Also check our article on best weekend jobs.
14. Start online t-shirts business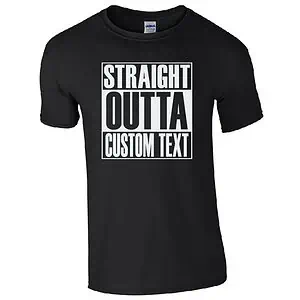 Websites like Teespring and Cafepress have made it very much easier for anybody to start tshirts selling business from the comfort of his/her living room without having to worry about production and shipping.
You must have seen some ads on Facebook or instagram about t shirts, you people can do the same stuff all by yourself.
Let me explain the process a little bit,
At first you have to make an account on any print on demand site like Teespring, then they allow you to upload the design of the t shirt you want to sell. You can design the t shirt on Photoshop or hire a designer on Fiverr for $5.
After uploading the design, Teespring allows you to set the price of the t shirt and gives you the link to promote that t shirt on social media, forums or your blog (if you have one).
Whenever someone would click the link and buy the t shirt, that t shirt would be shipped to him/her by Teespring and you will get your money after a $10 cut by the Teespring. For example if your t shirt is sold for $24 bucks, you will get $14 and Teespring will get $10.
The best way to promote t shirts is through Facebook ads but you need to get yourself trained about them before giving them a try because you can lose your money doing so.
Also read: Online Proofreading Jobs (36 websites to join in 2021)
Conclusion
This comes to end of legitimate online jobs for College students in 2021. All of the resources mentioned above are legitimate however each one has its own earning potential and it also depends upon your efforts and commitment.
If you ask for my personal recommendation, i would recommend you to start your own blog create high quality content on it to take it to the next level.
Blogging is a long term game and it requires a lot patience and hard work but the results are always sweet.
Frequently Asked Questions (FAQs)
How can college students make money online?
There are a variety of ways teens can make money online such as blogging, online surveys, freelancing, and dropshipping etc. Read this article to get a thorough understanding.
What are the best online jobs for students?
Read this article thoroughly to learn about the best online jobs for college students.
How to make money in college without a job?
You can start a blog, dropshipping business, youtube channel, or freelancing to make money without a job in college.