Do you want to know how to make money in high school?
Are you struggling to make some extra money every month?
Well to be honest! There are a lot of ways you can make money but the problem is that most of the teens are either too lazy or they just can't take the first step!
If you really want to make money, you have to take risks and face the challenges, get outta your comfort zone and start working!
Don't put up the lame excuse of not having enough time!
You have the time! You are just not managing it the right way!
In this article i have gathered 14 ways to make money in high school which include both online and offline ways.
All of the ways mentioned in this article are legitimate, however you have to figure it out that which way would be convinient for you!
(Discaimer: All of these are genuine ways to make money and have worked for millions of people around the world BUT nothing can be said about the amount of money you can make through these ways as it varies. You can make $0 and you can make millions of dollars)
How to make money in high school
Here are 14 ways you can make money in high school,
1. Start a blog (my top recommendation)
If you ask me to give you the best advice about starting an online business in the least possible investment,
I would simply say, START A BLOG!
Don't know what's a blog?
"A blog is a website that is regularly updated and provides information to people in the form of articles, videos or photos in a conversational tone"
This is also a blog which are reading right now!
Blogging is literally the best way to start a profitable online business as it allows you to build a strong foundation on the web with an everlasting effect!
With that being said, it is the high time for you to take action and get into the roller coaster of blogging,
Wanna see some income reports?
Check out this 2017 income report of Makingsenseofcents.com (a famous personal finance blog run by Michelle Schroeder)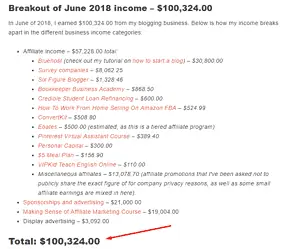 Credits: makingsenseofcents.com
BIG FIGURES! right?
Mitchele is an authority blogger and has been in the industry for a long time,
BUT we want an income report of new blogger, so lets check out the income report of a 4 month old blog,

YES! $1193 a month ,the fourth month of blogging! This is crazy!
Also read: How to make money online for free | 11 Realistic ways
2. Join Swagbucks and earn cashback
note: Swagbucks is not a way to make money rather a site to earn cashback!
A penny saved is a penny earned!
If you are shop online from Amazon, Walmart, BestBuy or eBay, you should join Swagbucks right now!
Why?
Because Swagbucks provides cashback on almost all of the major retailers including the ones mentioned above.
Swagbucks is top rated survey site but i don't recommend you take online surveys because they are waste of time instead you should go for cashback which is mostly available on Swagbucks.
Whenever you have to buy some stuff from any online retailer or wanna buy a service or software subcription just check Swagbucks cashback offers  and shop through there if you desired retailer has cashback offer available.
You will also get $10 sign up Bonus when you will sign up through this link and earn 300 SB (equals $3) in cashback. I recommend you to join it!
Also read: Swagbucks review: Is it legit and safe
3. Start Affiliate marketing
Affiliate marketing is tough but is really one of the best ways to make money in high school.
Ever heard of affiliate marketing?
"Affiliate marketing involves promoting the products or services of someone else and getting commission per sale or lead."
It is one of the coolest, quickest and most profitable way to make money online.
In order to start affiliate marketing, you have to join some affiliate program which allows you to promote it's products and make money whenever somebody buys any product through your referral link.
Some companies run their affiliate programs independently like Amazon and Ebay, whereas most of the companies operate their affiliate programs through third party websites like Shareasale, Commission Junction and Rakuten Affiliate network.
What is the best way to start affiliate marketing?
The best way to start affiliate marketing is to make a blog and start reviewing and promoting niche related products on it.
Confused?
Let me explain,
Let's say i want to make money by promoting gaming laptops from Amazon, then the first thing i would do is to make a blog about gaming and start writing reviews about gaming laptops on my blog.
Once people would visit my site to check the review about a certain laptop, they would buy it through the affiliate link present on my website. Once they would click on the link, they would be redirected to Amazon product page where they would buy the product and i would get a commission.
Amazon affiliate program is just one affiliate program, there are actually hundreds of affiliate programs in almost every niche you could think of.
Related: Online jobs for College Students | 15 legitimate resources
4. Start freelance writing
If there is one skill that is the most in-demand skill in the online world right now, it is WRITING!
Don't worry you don't need to have some extra ordinary vocabulary and creative skills for that,
If you can write an article in simple english with no grammatical errors, you can become a successful freelance writer.
Companies are always in need of content writers and are willing to pay a decent money for that.
There are a lot freelance websites where you can sign up and start providing your services, like Freelancer.com, Upwork.com, Guru.com etc.
Getting your first 10 clients is difficult as people don't trust new sellers much but once you manage to get first few sales, things start getting easier.
The rates on these freelance websites are not much so i recommend that once you get some experience from these websites, make your own writer website for your portfolio and start approaching big companies, startups and websites to provide writing services at much higher rates.
Also read: How to make money online in quarantine [10 legitimate ways]
5. Start a YouTube Channel
YouTube is a great place to start your online business in 2019 and beyond.
You can make a channel about anything you love and start making cool videos to attract audience,
Some kids are really making millions on YouTube,
Wanna see some examples for inspiration?
Here you go,
Evan is 12 year old kid who reviews toys and does some fun challenges on his YouTube channel,
He started his YouTube channel in 2011 and has 3,658,333,902 views up till now!
According to Business Insider, Evan makes more than $1.3 million a year!
I gave Evan's example to encourage you people and make you guys realize how much potential YouTube has.
How do youtubers make money?
There are quite a few ways to make money as a YouTuber, which includes Display advertising through Google Adsense , Sponsorships, Affiliate marketing and selling your own products/services.
#1 Display Advertising through Google Adsense
You must have seen ads being displayed on youtube videos, these ads are actually placed through Google Adsense.
Google Adsense is a Google service that allows you to place ads on your videos and make money per 1000 ad views and per ad click. Normally YouTubers make $3 to $4 per 1000 views.
In order to apply for Google Adsense you need to have atleast 1000 subsribers and 4000 minutes of watch time on your videos.
#2 Sponsorships
In sponsorships, different companies approach you and ask you to promote their product to your audience.
In return they give you a certain amount of money. BUT for this you need to have a decent number of subscribers and average views on your videos.
#3 Affiliate marketing
I have explained the affiliate marketing concept above. The process is same over here except you promote the product through YouTube videos instead of a blog.
#4 Selling your products/services
Selling your products/services is pretty much self explanatory. You can sell any kind of product to your audience provided it really is a helpful product.
Also read: How to make money without a job [19+ legitimate resources]
6. Start dropshipping
Dropshipping is one of the most profitable and lucrative ways to make money online. Just like blogging it has a huge earning potential provided you do everything right.
In Dropshipping, you basically act as a middle man, where you sell products without having to worry about the production and shipping.
All you to do is to create an online store on Shopify and import products from Aliexpress virtually on your shopify store. Whenever someone buys the product from your store, the actual owner of the product or supplier from Aliexpress ships the product to him/her.
So what do i get, Basit?
Good question!
Actually the prices of items on Aliexpress are quite low, so what you do is that when you import some product from Aliexpress to your shopify store, you set your own price which is relatively higher.
If you are still confused, check out this step by step guide to dropshipping by Shopify.
Also read: Online jobs for teens in 2021 [10 authentic resources]
7. Join Amazon Mechanical Turk
Amazon Mechanical Turk is a platform that allows you to make money doing micro tasks that require human interaction in one way or the other.
These task include researching about a certain topic, rating search engine results, proofreading, transcribing audios and much more.
You can't expect to make full time income on this platform,
But you can surely make some extra money every month.
Also read: How to make money as a kid | 10 legitimate ways
8. Make money selling t shirts online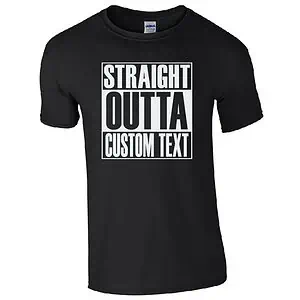 Selling t shirts online is a great way to make money in high school,
Companies like Cafepress and Teespring have made it very much easier for anybody to start his/her own t shirts business from the comfort of his/her living room.
These companies allow you to design any kind of t shirt you want to sell through Photoshop, upload the design on their websites, specify the price of the t shirt and promote it on your blog, social media, forums and through Facebook ads to get sales.
Whenever someone places an order, these companies print that t shirt and ship it directly to the buyer.
A certain percentage of t shirt price is taken by the company whereas the rest is yours.
Check out these 5 tips to sell more t shirts by Tshirt Help Desk.
Hope this helps!
Also read: Under the table jobs (10 options to go for in 2020)
9. Start self-publishing on Amazon Kindle
Do you love writing?
Do you love writing fiction or non-fiction?
The whole process of approaching a publisher and getting your book published is so much tedious and time consuming that most of the writers simply quit!
BUT!
Amazon has solved this problem!
Now you can write a book and self-publish it on Amazon Kindle for FREE!
You don't need to be a professional author for this,
IF you can't write fiction, no problem!
Just go for short 3000 words non-fiction books with eye catching covers as shown below,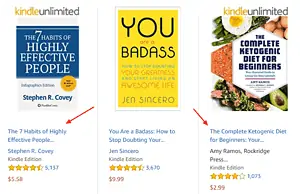 The average price of the e-books on Amazon is relatively less as compared to physical books but you should not forget the amount of traffic Amazon receives,
You get all the traction for free!
If you are serious about self publishing and want a step by step guide for it, check out this guide by Stefan James from Project Life Mastery.
Also read: How to make 100 dollars a day [20 legitimate ways]
10. Become a virtual assistant
Virtual assistance is a great way to make a full time living from the comfort of your home.
It involves working remotely for some company/website providing a wide range of services including blog management, email management, database management, researching on a topic etc.
Being a virtual assistant, you need to have strong management skills and ability to work in a limited time constraint.
The average hourly rate of a virtual assistant is $20/hour in the United States, but it usually varies depending upon your skills, experience and client you work with.
You can find virtual assistance related jobs through job boards, social media groups and freelance websites.
Want some guidance?
Check out this video on how to make a full time living as a virtual assistant,
Hope this helps!
Also read: 6 legit ways to make money on Steam
11. Sell photos online
Do you have knack of taking cool photos?
Do you love capturing the beautiful moments?
Well now you can sell your photos online and make some extra money every month!
Websites like Shutterstock allows you to sell your digital photographs to millions of people out there.
Shutterstock is a huge markeplace of digital photos and videos where both both buyers and sellers join to deal with each other.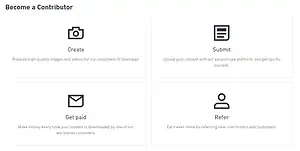 Shutterstock has paid out $500 million to its contributors up till now!
The best thing about digital photos is that you can sell them for unlimited number of times without the fear of your stock getting emptied.
You are paid about 33 cents per photo download (I know thats's very less but having a large number of photos in your profile can lead to a decent total)
A major drawback: Shutterstock and all the other digital photos marketplaces requires you to be at least 18 to join them so if you want to join them you can sign up with any of your elder brother's or father's details.
Also read: Paid focus groups | 10 best options to for in 2020
12. Sell on Etsy
Are you a creative guy?
Can you make eye-catching crafty items?
Etsy is a huge marketplace where you can sell hand made crafts and make a good amount of money every month,
Just to give you an idea, Etsy has more than 30 million active buyers!
Huge market!
You can sell jewelery, clothing, toys, tools, kids products, vintage items and a lot more things mentioned in he following graph with the number of listings,
Want some detailed guidance?
Check out this video by Etsy Entrepreneur in which the guy goes through the whole process of setting up an etsy store.
Hope this helps!
Also read: 36 Online Proofreading jobs websites in 2021
13. Become a baby sitter
Baby sitting is one of the most popular part time job teens do to make some extra money on the side.
It is one of the most profitable ways to make money on the side,
Not only it helps you make money but also helps you become a responsible and reliable person.
If you want to become a baby sitter, then the best way is to start from your relatives and neighbors.
People hesitate to trust teens with no experience, so first work with your neighbors and relatives and once you get some experience, start approaching other people.
14. Start tutoring teens
Yes!
You can make money in high school by tutoring other teens either of your grade or juniors provided you have a strong grip on any subject like maths.
Normally many teens struggle at maths or any other subject,
If you think you know the subject well and you can make the other person understand, you should simply ask him/her directly whether he/she wants tutoring or not.
You can command decent rates depending upon your expertise and experience.
Final words
These ways are just to give you an idea, turning them into cash is your job!
Some of these ways can help you make a full time living like blogging, Amazon affiliate marketing and freelance writing whereas other ways can help you make some extra money every month.
Now its up to whether you take action or not because just reading articles about how to make money in high school and not implementing anything will ONLY waste your time.
I recommend you to start a blog today and start working on it rather than wasting your time on social media.
Frequently Asked Questions (FAQs)
How to make money in high school without a job?
You can make money in high school without a job by starting an online business which includes blogging, dropshipping, vlogging, ecommerce, freelancing or consulting etc. Check out this article for more information.
How to make money online in high school?
You can make money in high school online through freelancing, blogging, dropshipping, consulting, paid surveys and making youtube videos etc. Check out this article for more information.